Columbia heads to its first Ivy League Tournament
Lois Elfman | 3/12/2020, midnight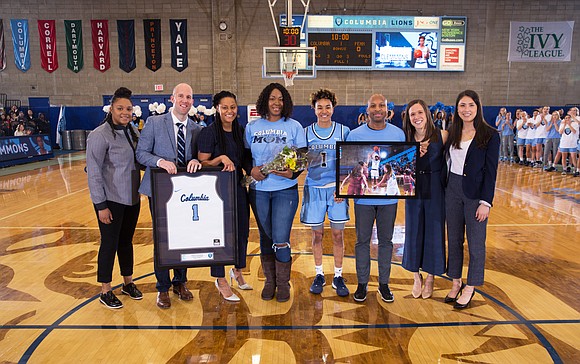 It has been a hard fought and successful season for Columbia University women's basketball. The team had hoped to finish regular season and Ivy League play with a flourish in its last two home games, but unfortunately that wasn't the case. Playing without sophomore guard/forward Sienna Durr and sophomore guard Mikayla Markham, the Lions lost to Princeton University 77–52 on Friday followed by a 51–36 loss to University of Pennsylvania on Saturday.
Friday marked the team's inaugural Pride Night, with fans receiving t-shirts to mark the occasion. Saturday's game was Senior Night, as the Lions' lone senior, guard Janiya Clemmons, the team's captain, was honored on court. Both games had attendance in excess of 1,000, a wonderful statement on the team's progress.
"It's crazy to think that's my last time, possibly, on that court, but I was trying not to think about that too much during the game," said Clemmons after the Penn game.
While Clemmons was disappointed by the results, she also understood the progress the team has made during her four years at Columbia. "It means everything to know that I could have an impact on something way bigger than myself," said Clemmons, a computer science major. "It feels good to see some of that blossom on the court, but we have a lot of work to do."
Columbia takes on Princeton on Friday afternoon in the first game of the Ivy League Tournament. Clemmons said the Lions will head into the game with a scrappy, something-to-prove attitude.
"If you want to go somewhere you haven't been, it's going to be unfamiliar," said Lions coach Megan Griffith. "I wanted our season to end playing the two best teams in our league. It's a little sobering we didn't show up the way we wanted to. … It's hard to end your regular season like that at home"
Griffith's competitive nature made her discouraged post-game, so she couldn't really reflect on how well the season had gone. She did take a moment to reflect on Clemmons' contribution to the program.
"She came here very green…and we got to grow up a lot together," said Griffith, whose first season at Columbia was Clemmons' freshman year. "I'm really proud of her for the woman that she's become and what she's going after with her ambition."
The Lions will spend the week training hard. "I'm proud of how we got here and we still have a lot to show people," said Griffith.