Coronavirus increasingly impacts the world of sports
JAIME C. HARRIS | 3/12/2020, midnight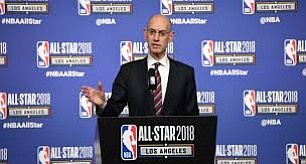 As the current strain of the coronavirus continues to rapidly spread globally, its effect is being felt across a wide spectrum of sports. There remains uncertainty among medical experts as to how long the virus will persist and the number of people that will be impacted. It has led to the postponement and cancellation of various sporting events including the cancellation of the New York City Half Marathon, which was scheduled to take place this Sunday in Central Park.
The World Health Organization describes coronaviruses as a "large family of viruses that cause illness ranging from the common cold to more severe diseases such as Middle East Respiratory Syndrome (MERS-CoV) and Severe Acute Respiratory Syndrome (SARS-CoV)." The novel coronavirus, which is what is now enveloping virtually every continent, "is a new strain that has not been previously identified in humans," according the WHO.
The Arnold Sports Festival, held last week in Columbus, Ohio, is one of this country's most comprehensive and well attended annual multi-sport gatherings of athletes, sports fans, fitness aficionados, and health and wellness adherents. It's organizers were compelled to cancel the event's expo at the Columbus Convention Center featuring numerous vendors and exhibitors, and preclude fans from attending most of the competitions to avert spreading the coronavirus.
Named after Arnold Schwarzenegger, the bodybuilding legend, actor and former governor of California, the Festival, which began last Thursday and concluded on Sunday, was expected to attract upwards of 250,000 attendees to Columbus, including athletes from 80 countries, and generate roughly $50 million in business.
"We all decided to move forward with the athlete competition of the Arnold Classic, but not to allow spectators or the trade show to continue, with the exception of the Arnold Classic Finals on Saturday night at the convention center," said Gov. Mike DeWine of Ohio, in considering precautions relating to the coronavirus.
Athletes from China, Italy, Japan, Iran, and South Korea, the countries with the highest confirmed cases of the virus at the time the Festival was set to begin, were excluded from participating. "We would never choose making money over people's health," said Schwarzenegger.
The leaders of the various sports leagues, including the NBA, NHL, MLB, as well as collegiate sports, have all held discussions to determine how they will move forward. On Monday, the NBA announced it is limiting access to teams' locker rooms. On the same day, the National Hockey League announced they were closing locker room access to the media.
The Ivy League has canceled its men's and women's basketball tournaments, and the world's top soccer leagues in Europe are amending their schedules and operations.