Cruise through history in the Peruvian Amazon
SHERYL NANCE-NASH | 3/12/2020, midnight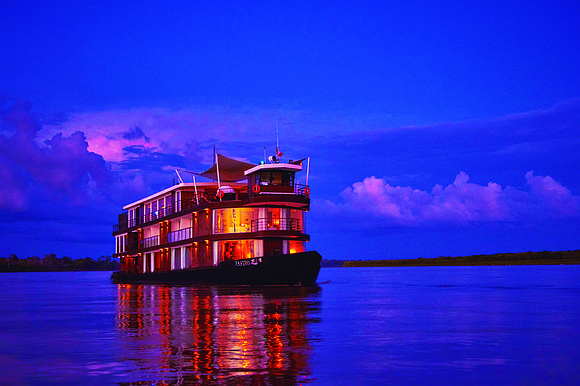 If you want an adventure worthy of what you see in movies, take Jungle Experience's 5-star luxury river cruise aboard the Zafiro through the Peruvian Amazon. It's as good as it gets.
Fly into Iquitos where the journey begins. It's vibrant. Tuk-tuks jockey for position in the streets. Your eyes feast on the action, the dilapidated buildings alongside modern restaurants, cafes, bars, shops. The vibe is funky, hip. You'll likely spend a day there before making your way to the port of Nauta City to board the Zafiro. The Hotel DoubleTree by Hilton Iquitos is located on the town's main square, convenient and comfy with its wellness center, pool and array of amenities. You can walk to historic buildings like the Cathedral of Iquitos, Plaza de Armas, Tarapaca boardwalk, the Iron House, Belen Market, and much more. The metropolitan area is home to more than 400,000 people. It's a fascinating contrast to what comes next––a trek through ancient civilization.
You know you're in for a good time. As you come aboard crew members on flute, drums and guitar are playing lively Peruvian music that makes you want to dance all the way to your suite. And when you get there and open the door, you find panoramic windows from floor ceiling giving you a front row seat to Mother Nature's beauty. Suites on the second of three decks also have a private balcony. There are just 19 suites, so the mood is warm and intimate.
While you came to rough it in the jungle and on the river, you're no doubt happy about being in the lap of luxury in between those escapades. Don't however expect Wi-Fi or flat screen TVs, nature is the star of this show, and what a show.
In addition to the dining room, there is more than enough to keep you occupied when you're afloat. Settle yourself in a seat in the indoor reading lounge, or hang out up top at the outdoor bar, hop in the jacuzzi or lay back in a lounger and enjoy the view with a Pisco Sour, it's up to you. If the temperature is a bit too hot for you, cool off in the indoor bar and lounge. No worries about missing exercise, there's a small gym and for pampering, a massage room with river views.
For sure, one thing you'll talk about is the food. Think variety, BBQ pork ribs, oriental duck, stewed hen and quinoa, grilled chicken breast with buffalo cheese and greens. Or, Peruvian dishes like Patarashca, pieces of fish seasoned with Amazonian chalaquita made from regional cilantro, regional tomato, onion, garlic and sweet pepper, cooked on the grill in bijao leaves to aromatize. Then there's Camu Tiradito, fine slices of fresh fish covered in camu sauce flavored with regional cilantro and a touch of charapita pepper, accompanied by parboiled yucca and Amazonian corn and many more such dishes to indulge yourself and explore the culture.
But what you came for is a walk on the wild side. You won't be disappointed. Itineraries vary and much depends on Mother Nature. No matter what, you're going to make memories. There's nothing quite like an expedition to the Amazon Natural Park. Walk through a forest with nothing in sight but miles and miles of trees, the only noise is your footsteps, perhaps something rustling in the bush or the songs of the colorful birds. It is magical. You spot a tiny frog, a lizard, and maybe, heaven help you, a boa. If you're feeling adventurous, head straight for the hanging bridge. Your guide will assure you it's safe, just take your time. Right! Go for it. Those pictures will be worth the palpitations.