Elegance in the details
RENEE MINUS WHITE | 3/12/2020, midnight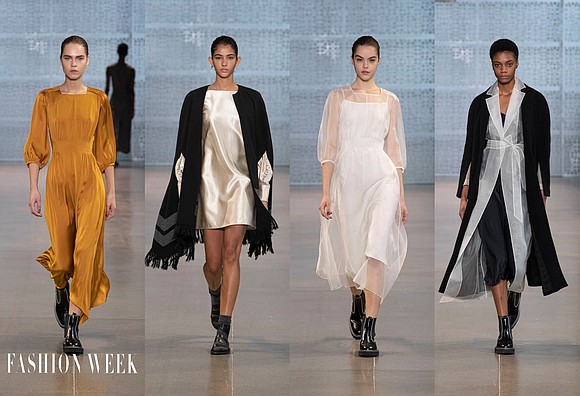 Noon By Noor's NYFW collection for Fall 2020 was inspired by Bahran's traditional handcrafted doors and decorative architecture. Designers Noon Rashid Al Khalifa and Haya Mohammed Al Khalifa created prints like the intricate geometric shapes that were carved on wooden structures, doorways, and buildings and celebrated the season with beautiful fabrics. Scroll jacquard patterns were showcased in fluid shapes with architectural details. In both black and white, geometric lace is more graphic in design, mimicking interlacing fretwork (an interlacing decorative design).
Their bold scarf-tailored fabric was enhanced by fringe edges in black and white that provided a strong contrast to softer tones. On other garments, tweed was used as a lining in golden oak to modernize the traditional fabrics. In pure ivory, satin looked refined and alluring. Natural textiles in a utility blend of linen and wool were an interesting mix. Noon By Noor's more intricate pieces included cropped waffle knitwear, contrasting softer silks, chiffon cuts and some organza styles.
"We explored Bahrain's architectural beauty and expert tailoring, sharp lines and hues. The line is also leisurely and graceful," stated Noor Al Rashid. "Softer, feminine elements, such as lace and embroidery, are incorporated as details on more masculine shapes, attesting to the brand's aesthetics," said Haya Al Khalifa.
The design team opened their first brick and mortar retail store in the fall 2018 on Broome Street in SoHo, NYC. The company's sibling designers Nicholas and Christopher Kung have seen international jumps in their business. "Working closely with customers in the store and monitoring online behavior have become valuable tools to guide design," the designers shared.
For fall/winter 2020/'21, Noon By Noor's inspiration came from the diversity and universality of their consumers. Their shoppers come from all over the world, and they relish the age range, backgrounds and lifestyles of people who connect with their brand's sensibility. Their customers include well-traveled architects and artists involved with health and wellness. They also design for clients who have global perspectives on life and community