If Kev and Kyrie wanted Kenny, he'd still be here
VINCENT DAVIS | 3/12/2020, midnight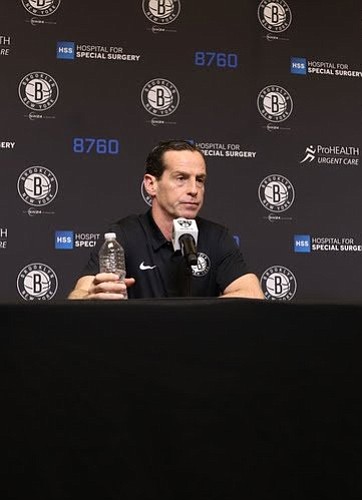 The "Wow, stop playing" factor is subsiding. It's just a matter of time before some other hit take or trending news item takes center stage, but the announcement of Kenny Atkinson's firing early Saturday morning is still shocking to think about. The Brooklyn Nets' head coach was dismissed, let go abruptly on Saturday morning. It was described as "a mutual agreement" by the team's General Manager Sean Marks.
"After discussions with Kenny about the progress of the season, we mutually agreed that a coaching change would be in the best interest of the team," said Marks. The thought being, the team needs a new voice.
"This was an extremely difficult decision, however the organization believes it is one that is necessary at this time." But why? Why at this time?
The Nets, a seventh seed in the Eastern Conference, had won the night before, their 28th, blowing out the San Antonio Spurs 139-120. It was their second win of three games after a four-game losing streak. Indicative of this season. An up and down one that Atkinson, usually dressed in his "Men in Black" attire, maintained.
There were 20 games left to the season which ends next month, April 15. The playoffs will immediately follow.
Although Brooklyn has less wins this year than last at this time, seven in the beginning of February, five in the beginning of March, it should be noted that Atkinson navigated a team that has suffered from major injuries. Kyrie Irving, signed last summer, only played 20 games in this, his first season with the Nets. He had surgery last week that he can only recuperate from through the summer, next season.
Both Caris LeVert and Spencer Dinwiddie missed a significant number of games, also due to injuries. Kevin Durant, who also signed with Brooklyn last summer, never played this season, but wasn't expected to, due to an Achilles injury that he sustained at the end of last season with the Golden State Warriors.
With all of that, the Nets are still expected to qualify for the playoffs, unless there's an epic collapse.
Because of their status and resumes, despite being the newest kids on the block and despite the tenure and development of teammates Dinwiddie, LeVert and Jarrett Allen, Durant and Irving are now considered the face of the team. They're coveted superstars who could have chosen a variety of the 30 NBA teams to sign up with. They chose Brooklyn because of the team's improvements in the last three seasons, which Atkinson directed from the sidelines.
According to Durant on Media Day in September, he researched the Nets and Atkinson on YouTube.
"I was doing a lot of YouTube research on Kenny Atkinson and watching interviews to see how he talked after games and stuff," Durant told the throng of media members in attendance.
"I really liked his approach to his craft as a coach and that's what drew me in pretty quickly."
Two weeks before, Atkinson had to miss the one-on-one press conference with Marks for media members because he had to rush Irving to the hospital after "an inadvertent elbow," as Marks described it, to Irving's face.