The story of James Wiseman tarnishes the beauty of March Madness
JAIME C. HARRIS | 3/12/2020, midnight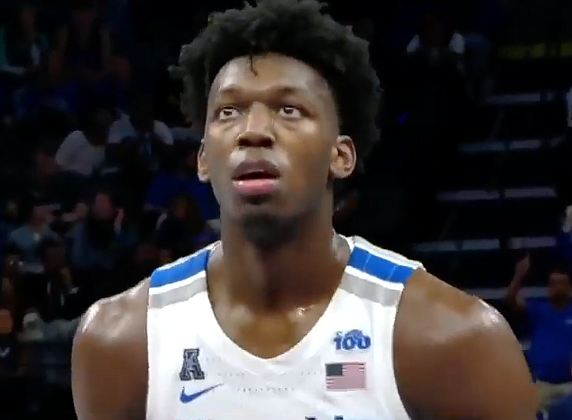 It is a strong possibility that James Wiseman, who will turn 19 later this month, will be the No.1 pick in the NBA Draft in June. The 7"1' center from Nashville, Tennessee, also had the look of the best player in college basketball before the NCAA interrupted his brief stay at the University of Memphis.
In three games this season, Wiseman averaged 19.7 points and 10.3 rebounds, including a mouthwatering 28 points, 11 rebounds and three blocks versus South Carolina State in November in his collegiate debut. So as March Madness gets underway, it'll be without the player who quite possibly would have been the sport's biggest star in its signature showcase.
Wiseman, the consensus top high school player in the class of 2019, signed with the University of Memphis over perennial powerhouse Kentucky. Memphis is coached by Anfernee 'Penny" Hardaway, a two-time First Team All-NBA selection (1995 and 1996), and four-time All-Star with the Orlando Magic. Hardaway is an icon in the city of Memphis, where he was born and raised, and is arguably the greatest player in the history of the University of Memphis program. This is where the disappointing story of Wiseman's conflicts with the NCAA essentially begins and ends.
Prior to taking the head coaching job at his alma mater in March of 2018, Hardaway headed and coached the Team Penny AAU basketball program and coached the Memphis East High School team. Wiseman joined Team Penny in May of 2017. Later that summer, he announced he was transferring from the Ensworth School in Nashville to Memphis East.
Hardaway paid the expenses for Wiseman and his family to move from Nashville to Memphis in 2017. However, because he had previously donated $1 million to the university and thus was considered a booster, the NCAA subsequently deemed the money Hardaway provided Wiseman's mother, Donzaleigh Artis, for their relocation, a violation of their polices. Wiseman had no knowledge of the payment, allegedly $11,500.

After an appeal to the NCAA by Memphis to reinstate Wiseman and an injunction sought by the school in the Shelby County, Tennessee courts, it was announced on Nov. 20 that Wiseman would be suspended for 12 games and required to donate $11,500 to his charity of choice. He wouldn't be eligible to play for Memphis again until Jan. 12.
When the ruling was handed down, Wiseman posted a tweet reading "God has never left me nor forsake me throughout this process…Trust God, Keep the Faith, Stay the Course." One month later, on Dec. 19, Wiseman revealed he had withdrawn from Memphis to prepare for the NBA Draft.
With Wiseman gone, Memphis, a team that had arguably the top recruiting class in the country entering this season, a group that also included 6"9' Bronx product Precious Achiuwa, a native of Nigeria, went from being a popular choice to make it to the Final Four to a team that at 21-10 heading into the American Athletic Conference tournament tonight to face East Carolina (10 p.m.) has the odds against them to advance to the NCAA tournament. Achiuwa has had an outstanding freshman campaign and is a projected lottery pick.

Seemingly innocuous mistakes by adults led a young man to make a decision to best benefit his future. Wiseman had every intention to live out a dream of perhaps becoming a legend of the tournament, in the lineage of the then Lew Alcindor––who later changed his name to Kareem Abdul-Jabbar––, Bill Walton, Michael Jordan, Patrick Ewing, Christian Laettner, Carmelo Anthony, Kemba Walker and Anthony Davis.
The NCAA could have exercised more prudence and decided on a less punitive consequence. Two months of sitting out a season can seem like an eternity for an 18-year-old, one-and-done player. Now he'll be a spectator who in June will walk across a stage in the Barclays Center to shake the hand of NBA Commissioner Adam Silver as a top pick with a brief, what-if unfulfilled college experience behind him