Talking SCHOP! With Love, B. Smith
KYSHA HARRIS Food Editor @SCHOPgirl | 3/12/2020, midnight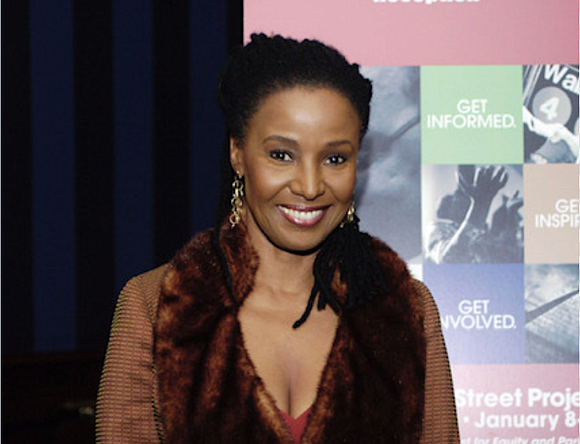 While I did not know B. Smith personally, oh how I loved seeing her beautiful brown face and ebullient personality come through my screen. Thank you for the demonstration of a life.
In honor…
Braise of Black-Eyed Peas and Greens Soup
Yields 6 servings
Braising is a method of cooking that involves first browning an ingredient such as meat or vegetables, then finishing cooking in a liquid over low heat. This slow style of cooking allows you to create dishes with incredible flavor and tenderness. While this dish isn't a traditional braise, I use the term because there's a whole lot of slow cookin' goin' on in this soup of vegetables, black-eyed peas, meat, and greens. I like to use kale or collard greens in the recipe because they hold up well to this type of slow cooking. Serve this hearty soup with a loaf of crusty bread for dipping!
1 1/4 cups (about 10 ounces) dried black-eyed peas, or two 15-ounce cans cooked black-eyed peas, drained and rinsed
2 tablespoons olive oil
1 cup diced sweet onion, such as Vidalia
2 cloves garlic, minced
1 cup diced celery
1/2 cup diced carrots
2 bay leaves
1 1/2 cups chopped kale or collard greens, stems discarded
1 cup diced pork, ham, or smoked turkey breast
6 cups low-sodium chicken stock or broth
2 teaspoons Creole seasoning
1/2 teaspoon dried oregano
Sea salt and freshly ground black pepper to taste
1 cup cooked barbecued rib meat, shaved off the bone and chopped, optional for garnish
The day before serving, in a large bowl, place the dried black-eyed peas. Cover with water and let soak overnight. Drain and rinse thoroughly. Or, to quick-soak the peas, place them in a large pot or Dutch oven, cover with water, and bring to a boil over high heat. Remove from the heat, cover tightly, and let stand for 1 hour, then drain and rinse thoroughly.
In a large Dutch oven or saucepan, heat the olive oil over medium heat. Add the onion, garlic, celery and carrots, and sauté for about 5 minutes, until tender. Add the bay leaves, kale or collard greens, and meat to the pot and sauté, stirring frequently, for 2 to 3 minutes.
Add the chicken stock, soaked dried black-eyed peas or drained and rinsed canned black-eyed peas, Creole seasoning, and oregano to the pot. Bring the mixture to a boil, reduce heat to low, and simmer, partially covered, for 45 minutes to 1 hour, or until the peas are tender.
Remove the bay leaves, and season with salt and pepper. Ladle the soup into bowls and serve immediately, garnished with chopped rib meat if desired.
Rest in peace.
Happy eating and thanks for reading!
Kysha Harris is a food writer and editor, culinary producer, consultant and owner of SCHOP!, a personalized food service in NYC for over 15 years. Follow her on Twitter and Instagram, @SCHOPgirl, on Facebook, /SCHOPnyc, and her blog, www.talkingSCHOP.wordpress.com. Questions? Comments? Requests? Feedback?  Invitations!  Email AmNewsFOOD at AmNewsFOOD@SCHOPnyc.com. Follow us on Instagram, Twitter and Facebook @NYAmNewsFOOD and tag us with #SoAmNewsFOOD with your food finds!