Chipotle employees walk out for the fourth time in two weeks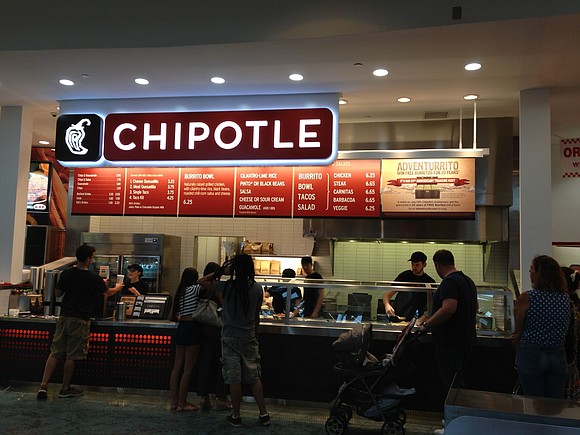 Chipotle employees have fought several battles with the fast-food company the past few years. They're now engaged in another one.
With national outbreak of COVID-19, Chipotle workers and allies marched out of a midtown location recently to call attention to employees allegedly being forced to work when they're sick. Workers placed it up there with the numerous violations of Fair WorkWeek laws and New York City Paid Sick Leave legislation.
Workers stepped out of the 1379 Sixth Avenue location where employees told stories about working sick.
"I told my manager that I had flu-like symptoms and needed to take a sick day," said Jeremy Pereyra, an employee at the midtown Chipotle who said he was forced to work sick earlier this month. "He told me I could not take off and he made me work the rest of my shift although I had been sick for three days and was sick that day." The experience came right after the Center for Disease Control and Prevention (CDC) released guidelines to contain the coronavirus, which included people staying home if they're sick.
Earlier this month, 11 workers filed complaints with the New York City Department of Consumer and Worker Protection (DCWP) agency, saying managers always pressured them to work sick and would look to retaliate against them or fire them for taking sick days.
"Several times in my year at Chipotle, I've gotten sick and had diarrhea while at work," said Carlos Hernandez, reiterating a story he told several weeks ago after Chipotle settled with the city after another complaint. "Every time this happened, I went to the on-duty manager, let them know I had diarrhea, and asked to go home. Unfortunately, every time I did this, the manager merely told me to switch from the grill where I normally work to washing dishes or working the cash register."
A recently released food safety report by 32BJ SEIU and the National Consumers League, titled "The Unsavory Side of 'Food with Integrity': How Chipotle management practices lead to worker abuses and may create food safety risks for consumers," noted that Chipotle managers continually violated its own company wide policy that prohibits crew members from working within three days of vomiting or experiencing "uncontrolled diarrhea" and within five days of receiving a diagnosis for certain infectious diseases.
"With the growing threat of the coronavirus outbreak, the level of urgency is even greater," stated New York Committee for Occupational Safety Executive Director Charlene Obernauer. "Chipotle is trying to have its cake and eat it too. They tell the public that they have implemented all these great food safety protocols and there's no longer any risk when you eat at Chipotle. But internally, they've set up a bonus system for managers that is in tension with food safety."
Because of the coronavirus crisis, Chipotle employees said they can't wait for the company to start following the law and demanded they do it as soon as possible. Something that New York City Council Member and Health Committee Chair Mark Levine agrees with.
"We passed the Paid Sick Leave law so people don't have to choose between taking care of their families when they are sick, and taking care of their families by going to work," stated Levine. "We are gravely disappointed to see Chipotle violating this law, especially at a moment that staying home when sick is a major recommendation from federal health agencies to halt the spread of the coronavirus."