The Nets too are now infected - Kevin Durant is quarantined
VINCENT DAVIS | 3/19/2020, 7:43 p.m.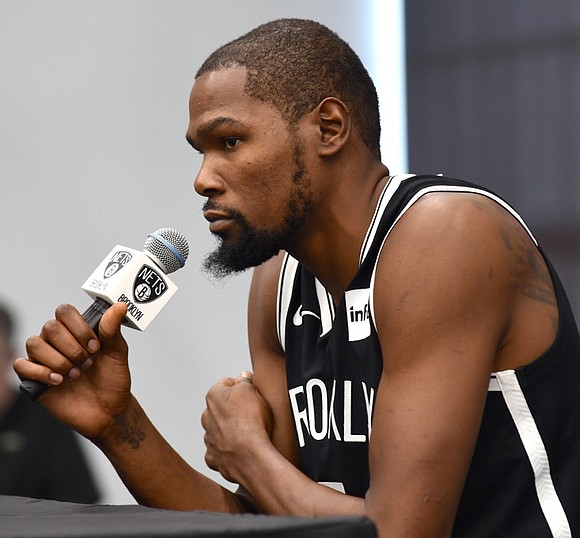 On Tuesday afternoon, the Brooklyn Nets issued a press release that began with the announcement that four of their players have tested positive for the coronavirus. "Of the four, one player is exhibiting symptoms while three are asymptomatic. All four players are presently isolated and under the care of team physicians.
One of those four players was confirmed as Kevin Durant who confirmed his own diagnosis, noting that he's feeling fine, and that, "We're going to get through this."
Durant, who joined the Nets last summer, has sat out this entire season recovering from injuries sustained during last season's playoffs with the Golden State Warriors.
According to the Nets' press release, they're now notifying anyone who has had known contact with the infected players, "including recent opponents."
During the month of March, Brooklyn has played five games before the NBA was forced to shut down the league last week; the Boston Celtics, the Memphis Grizzlies, the San Antonio Spurs, the Chicago Bulls, and the Los Angeles Lakers. The Boston and Laker games were both played on their floors. Brooklyn hosted Memphis, San Antonio and Chicago.
All players and members of the Nets travel party have been asked to remain isolated, to closely monitor their health and to maintain constant communication with the team's medical staff. Brooklyn is also working closely with state and local health officials.
"The health of our players and staff is of the highest priority to the organization, and the team is doing everything within its power to ensure that those affected receive the best care possible."
The Nets four players bring the number of known cases among NBA players up to seven starting with Rudy Gobert and Donovan Mitchell, both of the Utah Jazz Gobert's diagnosis prompted the NBA to suspend their season.
The Nets ability to be tested so quickly, which they've paid for, is disturbing to the city's mayor, Bill DeBlasio, because the test hasn't been available to many other New Yorkers.
"We wish them a speedy recovery. But, with all due respect, an entire NBA team should not get tested for COVID-19 while there are critically ill patients waiting to be tested," the mayor tweeted. "Tests should not be for the wealthy, but for the sick."
The mayor may need to rethink his comment. Considering how many people Net players and their staff have come in contact with, an infected member from their or any team organization can unintentionally cause a great deal of harm, accelerate the spread of the virus to others, here and in other places.