Talking SCHOP! Taking and making stock
KYSHA HARRIS Food Editor, @SCHOPgirl | 3/19/2020, 5:55 p.m.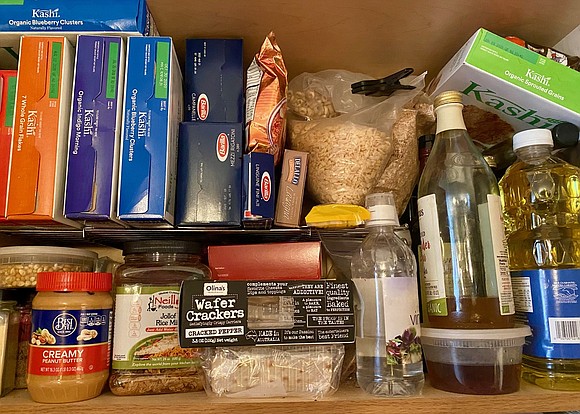 With the current state of our world of virus, quarantine, social distancing and all, writing about food seems like the last thing to be doing. However, because grocery store shelves are empty (and being restocked as quickly as possible), restaurants and other social gathering spaces are temporarily shut down or only offering delivery and take out, therefore, home cooking will be the norm, whether or not you think you can cook or not. We all have to eat.
There are only guesses of how long this pandemic will continue, a couple of weeks, possibly many months, and therefore our quick adjustments to a new insular lifestyle is essential to flatten the curve of infection rate and protect each other, most importantly our older generation. 1. Wash your hands and sanitize your space, often. 2. Limit yourself to necessary travel only, both in and out of the city. 3. Practice social distancing from each other, most importantly our elderly (even your older parents and grandparents) and those with preexisting conditions.
I, like many others, am taking this pandemic very seriously and doing what I can in my own way to help. For the foreseeable future, I will be offering mostly menu planning, recipes and more here based on what I am making and, on your questions and requests. Please email me at kysha@schopnyc.com or direct message me on Instagram and Twitter @SCHOPgirl or @NYAmNewsFOOD. I am here to help.
As not to waste any time, the following is how I have stocked my fridge, freezer and pantry:
Cases of water—for backup should they be needed, filtered tap water until then
Case of beer and wine because…beer and wine
A bar of spirits because…beer and wine need company
Sliced bread—stored in a freezer bag in the freezer, which helps to keep it fresh the longest
Family packs of meats and poultry—seasoned, wrapped and stored in bags in the freezer
Dry goods—spices (your preference but definitely salt and pepper), cereal, coffee, pasta, crackers, rice, grains, beans, bullion, nutrient-dense snacks like nuts, trail mix and protein bars…okay, and some chips and comforting snacks too
Canned goods—beans, tomatoes, tuna, sardines, clams, salmon (basically proteins that will keep for a long time)
Poultry, meats and seafood—frozen shrimp, whole chicken (to brine, season, roast and stretch out over many meals), chicken breasts (season, wrap and store in freezer), pork loin, vacuum sealed salmon, lamb, steak
Produce—potatoes, squash, hearty green vegetables like fennel, kale, broccoli, brussel sprouts and cabbage (steam and freeze if not being consumed immediately), onions, celery, carrots (mirepoix, the basis for many recipes), garlic, apples, bananas, citrus (lime, lemon, grapefruit, mandarins), cantaloupe, papaya, cucumber, tomatoes, lettuce
Refrigerated items—butter, milk, half & half (for coffee), pickles (not essential, but a good stress-relieving fresh crunch), eggs, cheese, yogurt, corn tortillas, various condiments (mayo, ketchup, mustard, sauces)
Personal care—disinfectant and cleaning materials, hygiene items
And for my fellow dog owners, I am stocked up with wet and dry food, medicine, treats, inside bathroom pads and other care items for my fur-sons. We have to take care of the entire family.
I am as prepared as I can be to weather these times of the unseen viral enemy. Do your part to take care of yourself, your families and each other. We can get through this together.
Happy eating and thanks for reading!
Kysha Harris is a food writer and editor, culinary producer, consultant and owner of SCHOP!, a personalized food service in NYC for over 15 years. Follow her on Twitter and Instagram, @SCHOPgirl, on Facebook, /SCHOPnyc, and her blog, www.talkingSCHOP.wordpress.com. Questions? Comments? Requests? Feedback? Invitations! Email AmNewsFOOD at AmNewsFOOD@SCHOPnyc.com. Follow us on Instagram, Twitter and Facebook @NYAmNewsFOOD and tag us with #SoAmNewsFOOD with your food finds!