Book Review: 'Sophisticated Giant: The Life and Legacy of Dexter Gordon'
Herb Boyd | 3/26/2020, midnight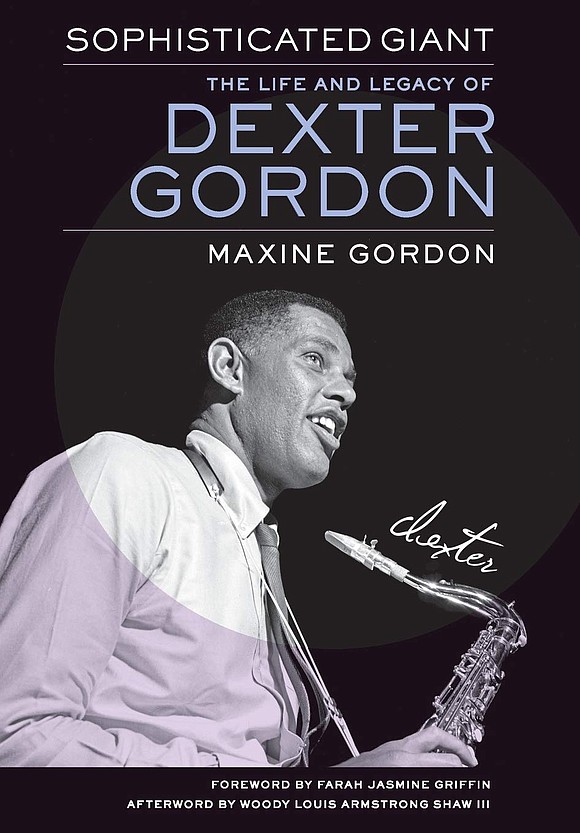 As we seek some solace from the menace of the coronavirus, noted music critic Howard Reich, in view of our inability to venture out for entertainment, has weighed in with his top jazz films to fill the terrible void. Topping his list is "Round Midnight," the 1986 film starring saxophonist Dexter Gordon. This notice comes just as I've finished reading Gordon's autobiography, and it's so cited in this fashion because Dexter never completed what his widow finished.
Consuming her extremely absorbing account of her husband's bountiful life and her relationship with him, I was reminded of the process Ekwueme Michael Thelwell used in completing Stokely Carmichael (Kwame Ture's) book, "Ready for Revolution." That collaboration, like the one between Dexter and Maxine, began and ended as the essential voice was no longer there. But, in both cases, Ture and Dexter left behind enough for their partners to weave into the published product, which each does deftly.
In the afterword of "Sophisticated Giant," Maxine's son, Woody Louis Armstrong Shaw III, summarizes his mother's varied and productive career, noting that she "is one of our leaders, an ingenious organizer, administrator, and manager of often irreconcilable and inconsolable minds and moods, a patron of unforgiving truths and hard-won justice, a lover and believer in human dignity and the power of beauty of Spirit." She is also, we might add, a gifted storyteller, historian, and a most astute sentinel of jazz.
The book unfolds in a chronological fashion, hewing close to Dexter's early musical odyssey, highlighting his teen years with Lionel Hampton's band, and following his adventurous days and nights through a veritable who's who of jazz, and you would need a map to locate him during his musical flights around the globe. Farah Jasmine Griffin, in her concise foreword, points out how "Sophisticated Giant" differs from such books as Sidney Bechet's "Treat it Gentle," Charles Mingus's "Beneath the Underdog," and Miles Davis's autobiography with Quincy Troupe, because of Maxine's voice, which "like a carefully woven thread, crafts a coherent whole."
Again, like Thelwell, when Maxine allows Dexter to speak without intervention, the passages are in italics and taken verbatim from his notes or letters. In this regard you gather some idea of Dexter's own ability with words——and they often emerge with the same lyrical quality he displayed on his tenor saxophone——or how they blend almost imperceptibly with Maxine's. This ability began when she worked organizing Dexter's career which gradually morphed into her becoming his lover and wife. Maxine handles this evolution with care and sensitivity, though there are times when she appears deeply concerned about violating some provisions left by Dexter to not reveal a "lost decade," one filled with jails, drugs, and troubled affairs, both professionally and romantically.
Above all, Dexter was a musician of extraordinary vision and performance and Maxine delivers this with all the gusto of a fan, and some of these moments are so breathtaking that even when she was not there they come alive with energy and insight. She was not there when Dexter and Wardell Gray recorded "The Chase," but she has heard it, and up-close replicas of it, enough on many occasions as she listened to Dexter in concerts, in their homes and the hotel rooms of the world. One of the most rewarding chapters in the book is her discourse on the recording industry and how jazz musicians were often at the mercy of companies, promoters, and agents. Here is how she discloses some of the dealings in her chapter entitled "Business Lessons": "According to the Copyright Act of 1909, the term of a copyright was twenty-eight years with a renewal term of an additional twenty-eight. In other words, Savoy Music owned all rights to Dexter's compositions for fifty-six years from the first recordings of his compositions in 1945. That gave them rights until 2001, eleven years after Dexter's death." He died on April 25, 1990.
Maxine does a thorough job of chronicling Dexter's relations with Blue Note Records, his off and on, up and down affair with Francis Wolff and Alfred Lion. Even so, there was a basic respect and admiration that was obtained and endured between them.
The world, particularly the jazz realm, was stunned when Dexter was nominated for the leading actor in "Round Midnight," and even Maxine muted her enthusiasm in the run-up to the nomination, guarding against disappointment. She provides readers with dramatic moments behind the scenes that occurred with the making of the film and the exciting experiences of being back in Hollywood where as a child Dexter first encountered the world of film.
Scattered throughout the book are remarkable photos that accentuate the text, none more memorable than one by Herman Leonard at the Royal Roost in 1948 where Dexter is enveloped in a penumbra of smoke, the personification of the hipster he was. Poignant, too, are Maxine's reflections and memories of Dexter's long stints and love for his residences in Denmark and other parts of Scandinavia, especially the club dates with sidemen who were not always equal to his status of proficiency.
Often at the close of his letters, Dexter wrote "Very Saxily Yours," and Maxine has lived up to his salutation in more ways than one. This is a tale well told——and it swings.