COVID-19 is redefining church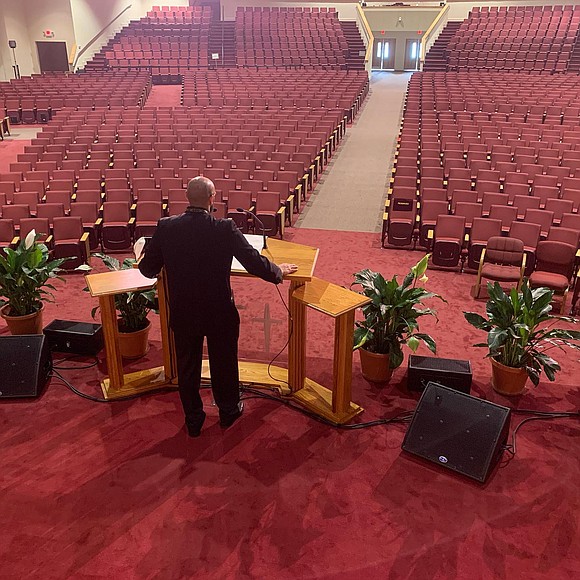 As the number of confirmed cases of the coronavirus (COVID-19) rises across the nation, social distancing is being promoted as a means of prevention and large crowds are being deterred. That includes attending church services.
The National Black Church Initiative (NBCI), which is a coalition of 34,000 churches, is urging all church leaders to encourage all members who are at least 60 years old and have underlying conditions to forgo church for the foreseeable future. The move by NBCI aims to protect church goers from the dangerous virus and is in accordance with guidelines released by the Centers for Disease Control and Prevention.
Dr. Anthony Fauci of NBCI said COVID-19 is 10 times more lethal than the seasonal flu. Health experts say that those with underlying conditions who are 60 and over are particularly vulnerable to the disease.
"Ministers are not doctors," Fauci said. "I know that there are some churches and ministers who are going to defy this moral declaration. If you do so, you must be willing to institute the principles of social distancing as an extra measure to protect all those in your congregation."
Fauci said that not attending church to stay safe against the coronavirus does not go against the Bible nor is it sacreligious. He adds that the Bible is clear about using other ways to praise such as sound, moral judgment in light of faith. A trend occurring in many Christian circles is C.O.V.I.D. (Christ Over Viruses and Infectious Diseases), which is making its way across social media ignoring orders about gathering in crowds.
"In this case, both the scripture and God want us to heed the sound judgment of scientists, doctors, and government officials who are trying to keep us safe," he said.
However, while the elderly are being urged not to attend church, executive orders in states and cities around the country have banned anyone from going to services because of large crowds. Several churches are using existing live stream options or creating them on Facebook Live and other social media platforms.
But not having service can also be a financial burden if no one shows up due to the fact that most churches get financial support from their members.
"We know that the average Black church is between 75 and 100 members," theologian and ethicist Keri Day said in one report. "Missing a service can mean the difference between lights on and lights off for many congregations."
Famed pastor and author T.D. Jakes says that Christians should turn to one another for support.
"We have recognized that there is more to unite us than divide us…We have discovered what we should have known without this trouble: That we need each other," Jakes said. "That we are better together than we are apart...it could be possible that God is calling us to a place of unity that nothing else has been able to do before…we have forgotten just to be nice."