Beloved principal dies of COVID-19 complications
Tara Michel | 3/31/2020, 10:52 a.m.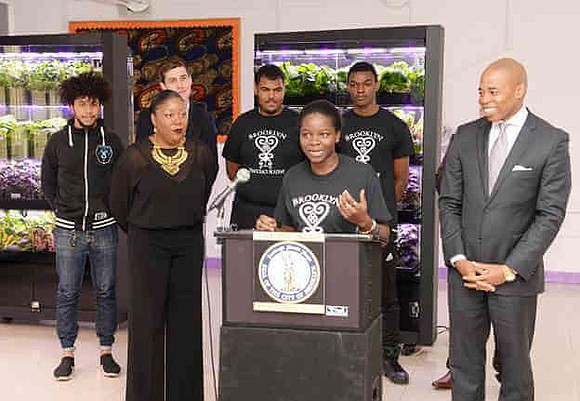 Leader and activist Principal Dez-Ann Romain of the Brooklyn Democracy Academy passed away from COVID-19 complications on Monday, March 23 at the age of 36. Following her tragic death, Borough President Eric Adams hosted a candlelight vigil on zoom to honor her memory.
Romain was a widely beloved educator and pillar of the Brownsville community. During the vigil, Borough President Adams, friends and family of Romain, New York City Department of Education (DOE) Chancellor Richard Carranza, and Council of Supervisors and Administrators (CSA) Executive Vice President Henry Rubio, offered remembrances and celebrated the impact she had on her students.
Romain was a student advocate and supported social and gender justice issues. She stood by these values and instilled them in her students. Adams says, "She was very energetic; she had a welcoming and warm way of speaking and interacting with people. She has this unique ability to make people believe in themselves and the possibility that education has to offer."
Transfer schools are viewed as the last stop for students but where others saw problems, Romain saw promise and potential. Her work was dedicated to uplifting students. She used education in a non-traditional way and made learning exciting. She was able to teach students to believe in the educational system but mostly believe in themselves.
Romain collaborated with Adams on a first-of-its-kind urban farming program called Farmshelf to grow healthy foods inside classrooms at Brooklyn Democracy Academy. Farmshelf is a growing system allowing students to use hydroponics to grow vegetables. Due to this program, students were excited about education and participated more. Many of them graduated high school and went on to attend college. Farmshelf has left a positive imprint on countless young lives.
CSA Pres. Mark Cannizzaro says, "Principal Romain represented the very best of our city and its public schools—an inspiring, compassionate professional who worked tirelessly to provide all children with opportunity."
The coronavirus is a place of new territory that we never traveled before. We must strengthen one's immune system to be able to fight the virus. Romain was teaching and serving healthy foods to our youth. To fight this virus, we must continue her fight of having healthy foods in our diet and our community.
"This is painful for all of us, and I extend my deepest condolences to the Brooklyn Democracy Academy community, and the family of Principal Romain," said Schools Chancellor Richard A. Carranza. "We're all experiencing a deep sense of confusion, uncertainty and sadness, and it's more important than ever to provide support to one another. We'll be there for the students and staff through whatever means necessary during this impossibly difficult time."
Every soul we lose in this pandemic is a tragic loss for our world. The loss of Principal Romain is painful for the Brooklyn Democracy Academy family, the larger public-school community and a borough grateful for her service.