'Love Goals' cast sounds off on relationships, compatibility and quarantine
NADINE MATTHEWS | 5/7/2020, midnight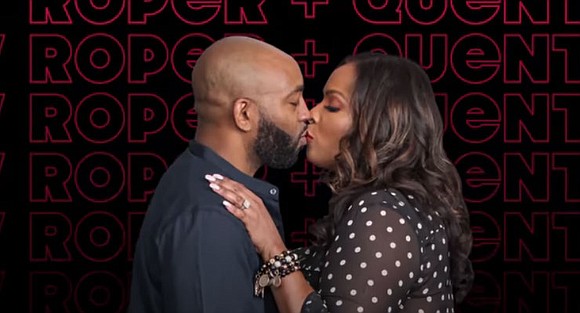 Last week, some of the cast members from OWN's "Love Goals" participated in a virtual screening of the relationship reality series' penultimate episode of the freshman season, followed by a roundtable with select journalists. A number of subjects including DNA compatibility tests, toxic reality shows and, of course, the quarantine, were all on the menu.
"Love Goals" chronicles the efforts of licensed therapist Spirit, over a two-week period, to assist each couple in overcoming the challenges, both individually and as a couple, that threaten their relationship. In what has now become a trope of many unscripted programs, the four couples all live together in a house for better or (usually) worse, for the duration.
The screening captured the heartwarming moment when couple Sundy Carter and Breyon Williams and his three adult brothers all met each other for the first time. The four couples (including rapper Coolio, NFL star Dwayne Bowe, Salt-n-Pepa's DJ Spinderella and their significant others) all had their DNA tested for an intriguing new genetic test that purports to gauge the compatibility of couples. The sequence where the results of that test were read took a somewhat comedic turn as some cast members found the results harder to accept than others.
Spirit, Spinderella and her partner comedian Quentin Coleman, and Dwayne Bowe and his wife Theresa participated in the roundtable and revealed that their relationships have been tested by the coronavirus quarantine. "Quarantine," declared Spinderella, whose wedding this month to Coleman was delayed due to the pandemic, "is a whole other level of a relationship!" Added Colemen, "We know we love each other but with the pandemic, because it's such a confined space, we've found out there's a lot of stuff we don't like about each other, which is not a bad thing."
The quarantine has also led Coleman to discover that Spinderella has a certain skill at coaxing him to do things that he wasn't as aware of before. "My grandmother used to tell me a woman can get a man to do anything if he loves her and yes, there's a superpower she has over me sometimes."
Being on "Love Goals," where they were sequestered in a house, albeit with three other couples, somewhat prepared Dwayne Bowe and his wife Theresa for the unexpected cloistering. Theresa Bowe explained, "We adopted what we did for the show to our regimen [in quarantine]." What she's learned from being on the show about the importance of timing in bringing up thorny issues has been of particular benefit. "I've learned that when he wants to listen is not normally when the action is happening, so I take my time. Most people. when there's a problem, they want to fix it right now, but I feel like we have forever, so I can be patient."
DNA tests, whose sometimes life-altering results sparked explosive reactions from participants, have been part of unscripted TV for many years now. The DNA test administered on "Love Goals" was very different and quite novel in its use.