Milton-Jones named head coach of renowned program
LOIS ELFMAN | 5/7/2020, midnight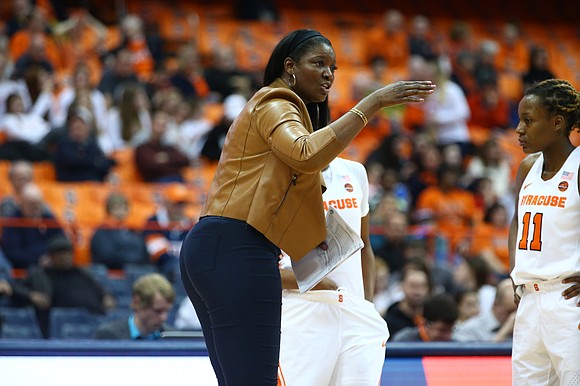 It all happened in rapid and unexpected succession. After two years at the helm of the women's basketball program at Pepperdine University in California, during which time 17-year WNBA veteran DeLisha Milton-Jones brought the team to its first post-season appearance, in 2019 she moved across the country to become assistant coach and recruiting coordinator at Syracuse University. Milton-Jones was focused on preparations for the 2020–21 season when she heard that her 2000 Olympic teammate, Nikki McCray-Penson, was leaving Old Dominion University (ODU) and accepting the head coaching job at Mississippi State.
"I definitely was not expecting to make a move," said Milton-Jones, who as a player won titles at every level of the game, including two Olympic gold medals with USA Basketball, two World Championships, two WNBA titles and a Euroleague championship. "This opportunity literally fell in my lap."
A series of phone calls led to a virtual interview on Zoom and soon after a job offer. "There were things that were very important to me that had this been normal circumstances I would have made sure had taken place, for instance, actually going to the campus and getting a feel for the environment," said Milton-Jones.
In this time of social distancing, Milton-Jones said it was tough to not sit down face-to-face, but she made her vision for the program clear. She is excited by the rich history of ODU women's basketball and her close ties to former players and coaches, such as Marianne Stanley, Anne Donovan, Ticha Penicheiro and McCray-Penson.
Moving to Virginia puts Milton-Jones in touch with her Southern roots. She is currently at her mother's home in Georgia. "The recruiting reach you can have with all the different states in close proximity, it's a great opportunity for me to settle in, go to work and be successful," she said. "Nikki has done a great job of trying to make the transition as smooth as possible."
Milton-Jones has previously spoken about the importance of young players seeing African American women in head coaching positions. She's in frequent contact with the ODU players and building relationships as well as doing some recruiting. Of course, she's also interviewing people for her coaching staff, and there are many interested applicants.
"I'm thinking months down the road when we finally do get the opportunity to come back together," said Milton-Jones. "The best thing I can do is be ready for what's to come, but also be in the moment now to answer any questions, relieve any stresses or fears that the players or parents may have."