Figure Skating in Harlem to host virtual gala
LOIS ELFMAN | 5/14/2020, midnight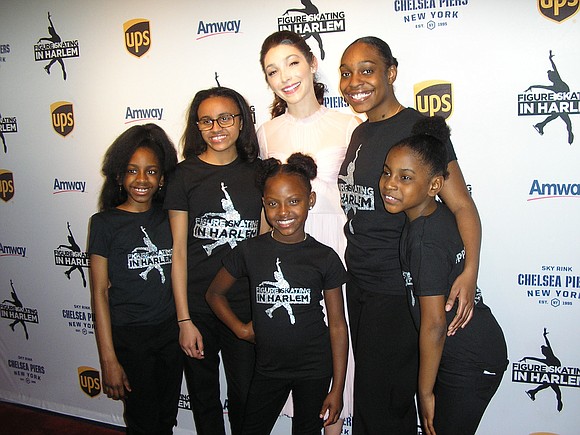 It was a great start to 2020 for Figure Skating in Harlem (FSH), the organization that serves girls ages 6–18 in the community with skating lessons, educational support, financial literacy curriculum, college advisement, career exploration and most importantly sisterhood. In February, there was the Soul on Ice winter skating party and Career Week, which saw some of the program's 10th and 11th-graders head to Washington, D.C., where they had a private meeting with the Supreme Court Justice Sonia Sotomayor.
The month of March started with great excitement as the girls planned for FSH's 23rd annual ice show. This year's theme was Girls Glide Globally: Skating to a Sustainable Future, but on March 12 the cancellation was announced due to COVID-19.
Even though on-ice skating classes at Riverbank State Park stopped, FSH has stayed connected with the girls via an online platform. The FSH program team created FSH Live.
"Our girls are on there every afternoon," said FSH founder/executive director Sharon Cohen. "They have emotional resilience and support, physical health and fitness, skating history and college guidance. We provide that sisterhood and sense of connection and that's really important."
Online has also been called into action for the annual gala. Renamed the Champions in Life Virtual Gala, this evening (May 14) there will be an e-reception followed by an awards program. The event will be hosted by broadcasters Andrea Joyce and Harry Smith. The honorees are FSH alumna Sherrie Smith, a VP at Goldman Sachs; Olympian and U.S. Pairs Champion JoJo Starbuck; and Angela Thompson Howard and UPS, recipients of the corporate trailblazer honor. Figure Skating in Detroit will also participate.
Cheyenne Walker, who's been with FSH for 11 years, is among the eight graduating seniors. On her 18th birthday last month, fellow FSH participants made her a birthday video. She will be attending Howard University, where FSH alumna, Tanay Davis, is finishing her junior year. They are hoping to start a skating club at Howard next year.
"I have appreciated the virtual classes a lot because we do a lot of self-reflection," said Walker. "Of course, feel how you feel, but recognize that things will get better. All the lessons that we've been taught helps put things in perspective because this time can get really difficult. Having FSH and our staff members there to help us through it all has been so helpful.
"In all honesty, FSH has truly helped shape me into the woman I am and will continue to be," she added. "FSH does such a great job in rooting us with confidence and teaching us that young Black women are strong and powerful."