Activists and elected officials question NYPD's recent social distancing enforcement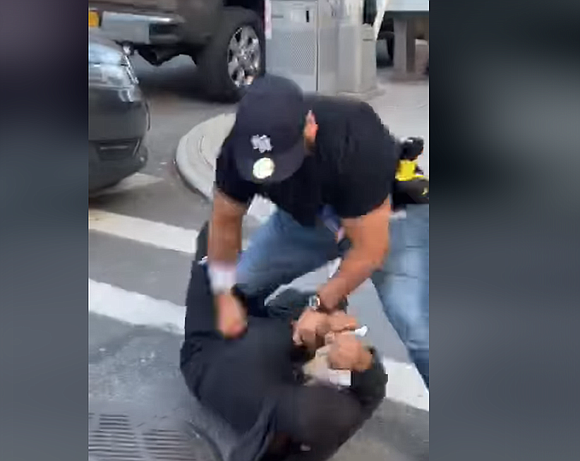 Activists and other police reform supporters have likened the disparity in arrests and summonses to the infamous "stop-and-frisk" policy that was a hallmark of former mayor Michael Bloomberg's three terms in office. Stop-and-frisk was eventually ruled unconstitutional by Manhattan Federal Judge Shira Scheindlin in 2013.
New York City Mayor Bill de Blasio denied that this enforcement was race-based and thinks that the comparisons to stop-and-frisk are unfair.
"What happened with stop-and-frisk was a systematic, oppressive, unconstitutional strategy that created a new problem much bigger than anything it purported to solve," de Blasio said to reporters during a recent briefing. "This is the farthest thing from that. This is addressing a pandemic. They're addressing the fact that lives are in danger all the time. Some incidents have occurred that have nothing to do with social distancing and we should not forget that there's an entirely different activity going on."
But Brooklyn District Attorney Eric Gonzalez's office is giving the cases in their borough a collectively raised eyebrow.
According to Gonzalez's office, 40 people were arrested between March 17 and May 4 for violating social distancing guidelines. Of those 40, 35 of them were Black and four were Latinx.
"The disturbing images of arrests for social distancing throughout our city serve to erode the progress that has been made in enhancing police accountability and strengthening trust in our criminal justice system," said Gonzalez.
Gonzalez's office will review allegations of excessive force during arrests in Brooklyn and decide if any of the incidents should result in disciplinary action.
"Any arrest under these circumstances should always be the last resort," continued Gonzalez. "Simply stated, we cannot police ourselves out of this pandemic."
According to the NYPD's annual report,13,459 stops were recorded in 2019. Most of those stops (8,867) were innocent, 7,981 of those stops were Black people and 3,869 of those stops were Latinx people. The pandemic might have kept many New Yorkers inside, but once outside, some believe it's business as usual. According to them, the modus operandi never changes.
"Consistent bad practices, stemming from punitive broken windows style policing, are being rebranded during #COVID19 as social distancing enforcement," said CPR Organizing and Policy Coordinator Carolyn Martinez-Class on Twitter.
But de Blasio wanted to counteract the bad news with some good news.
The mayor said they're going to increase the number of public servants out in the streets educating and reminding people of the social distancing rules while providing masks to people that need them. He increased non-NYPD personnel from 1,000 to 2,300 recently to help combat some of the bad news.
"City employees charged with educating, reminding, providing the face coverings, going out there, and working with people and helping them get to the right place," said de Blasio. "Again, a positive approach has been working in so many ways. We're going to double down on that. If we ever need enforcement, it's there."
The possible change in policy is all New York City Public Advocate Jumaane Williams wanted. However, he believes that the mayor and the NYPD need to go the extra mile in community relations.
"The administration needs to bring community stakeholders to the table following this announcement, to discuss the realities of enacting this policy," stated Williams. "Beyond that, it needs to employ local leaders such as clergy, and credible messengers with deep ties to their neighborhoods, with a focus on engagement and education, but not enforcement."