Democratic presidential candidate Joe Biden clarifies message to Black America
By Stacy M. Brown, NNPA Newswire Senior Correspondent | 5/24/2020, 6:40 p.m.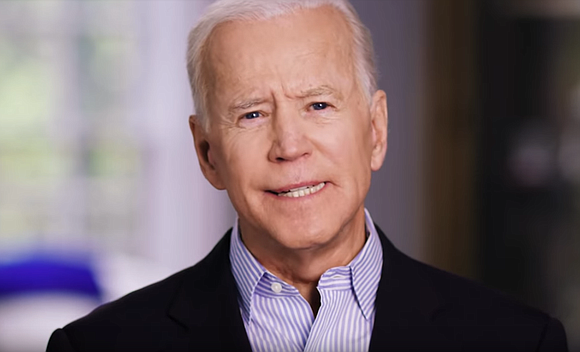 Presumptive Democratic Presidential Nominee Joe Biden clarified his message to Black America after the GOP, and others, seized on a remark he made in jest while wrapping up an interview with the famous Breakfast Club.
"I shouldn't have been such a wise guy," Biden stated after the comments to show host, Charlamagne Tha God, went viral.
"I shouldn't have been so cavalier. No one should have to vote for any party based on their race, religion, and background."
As the Breakfast Club interview wrapped and a Biden aide said he was running short on time, Charlamagne asked the former vice president to stop by the studio when Biden returns to New York.
"It's a long way until November," Charlamagne told Biden. "We've got more questions."
Biden replied, "You've got more questions?" "Well, I tell you what, if you have a problem figuring out whether you're for Trump or me, then you ain't black."
Republicans seized on the remark, with some sending emails to NNPA Newswire claiming that Biden was "race-baiting."
In response, NNPA Newswire asked members of the GOP to address what many in the African American community believe have been the racially-charged remarks and actions of the president.
There was no response.
"The comments made at the end of the Breakfast Club interview were in jest, but let's be clear about what the VP was saying: he was making the distinction that he would put his record with the African American community up against Trump's any day. Period," Biden's senior advisor Symone D. Sanders wrote on Twitter.
"Vice President Biden spent his career fighting alongside and for the African American community. He won his party's nomination by earning every vote and meeting people where they are, and that's exactly what he intends to do this November," Sanders stated.
In a "Meet the Black Press" segment of an interview on the web-based show, "Make It Plain," National Newspaper Publishers Association (NNPA) President and CEO, Dr. Benjamin F. Chavis, said people should react favorably to the exchange.
"Charlamagne always asks pointed questions, he takes no prisoners and he's a great brother," Chavis stated. "But, the vice president is a street fighter who comes from Wilmington, Delaware. Remember, he was speaking directly to Charlamagne."
Pressed further, Dr. Chavis noted that the issue boils down to the current administration verses a possible Biden administration.
"What Black people have to decide is not all of the prerequisites, but given what we know today, what is our aspirations? Who can best improve our quality of life? That's the issue," Chavis stated.
"We can't get caught up in personality politics. I would rather have a president who speaks from the heart, from the gut, than a president who speaks from a teleprompter. I want to know what Biden is thinking about. That he's thinking about Black, White, Latino, about the oneness of man.
"I would prefer to hear what he has to say, rather than to muzzle him. I tell hip-hop artists that they have freedom of expression, but they have to be responsible for what they put out. You have the freedom to say what you want, but after you say it, you have to be accountable."