Armory track youth programs celebrate a community member
LOIS ELFMAN | 5/28/2020, 12:18 a.m.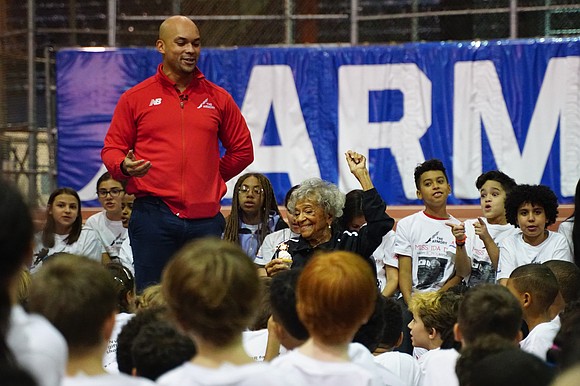 With kids stuck inside due to social distancing, the Armory's CityTrack (for middle schoolers) and Little Feet (second through fifth grade) youth programs have been doing their utmost to keep kids exercising and entertained. The Armory Track & Field Center in Washington Heights runs afterschool programs, and since mid-March they've provided Zoom sessions four days a week. Sometimes parents and grandparents even participate.
"When the schools shut down we—just like everybody—were trying to figure out how we can use this time meaningfully," said Alberto Aquino, director of youth programming. "We knew that a lot of the kids that we've worked with throughout the academic year, about 500, were going to be doing home workouts to stay healthy for the first times in their lives. So we decided we're going to have online live sessions."
Rita Finkel, co-president and director of Armory college prep, said the outpouring of interest from professional athletes wanting to lead sessions has been outstanding. Ajeé Wilson, Natasha Hastings, Joe Kovacs and Mary Cain have led sessions and the kids participating even get the chance to ask questions. Aquino and Finkel request that no jumping exercises be included in respect to neighbors.
"Given the circumstances, we have really stepped up and shown responsibility and, of course, creativity," said high jumper Amina Smith. "All the kids were so attentive and super enthusiastic. I couldn't have asked for such a seamless moment. I am forever thankful to the Armory Foundation for always putting together unforgettable experiences."
On May 18, after Smith led a 30-minute workout, the kids on the Zoom session got to celebrate the 105th birthday of Bronx resident Ida Keeling, a longtime masters runner who competed at the Penn Relays at the age of 100. Aquino said it was a really great way for the kids to feel connected to the Armory community. "Whenever the kids see her, they're inspired," said Aquino.
Keeling offered the kids some solid advice. "Always take up for yourself," she said. "Get plenty of exercise, eat a good breakfast and get your sleep."
The Armory's educational programs are also being run online. The platform can host as many as 1,000 people at a time for the workouts. "It's a charming thing that we thought would be nice for the kids," said Finkel. "It's really nice and we've been trying to promote the athletes for their generosity and kindness."