Danny Ray Thompson, Sun Ra's flutist and saxman
Herb Boyd | 5/28/2020, midnight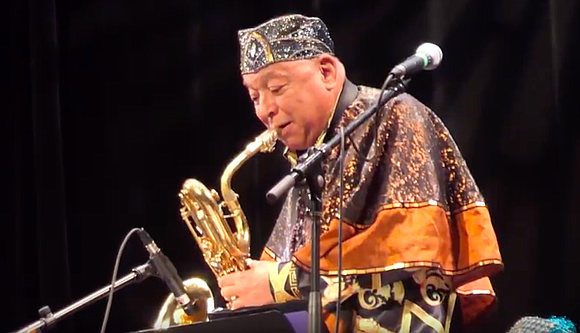 Last September there was a tribute to the late poet Steve Cannon at the Flamboyan Theater on New York's Lower East Side. The event was helmed by dancer/poet Patricia Nicolson Parker of the Arts for Art in partnership with Cannon's A Gathering of the Tribes. Headlining the performers was the Sun Ra Arkestra, led by saxophonist Marshall Allen. Never far from Allen was his bandmate, no, soulmate, Danny Ray Thompson, seated amid an arsenal of instruments, none more formidable than his sound on the baritone saxophone.
His powerful and lyrical tones are now permanently ensconced in the intergalactic cosmos with his great leader. Thompson, a veteran of the Arkestra for nearly five decades, died on March 12 in a hospice center in Philadelphia. As the noted musicologist John Szwed wrote in his biography of Sun Ra, within a few years of joining the group, "Thompson was to become one of the most trusted people in Sun Ra's entourage, and, some even said, the heir apparent to the leader."


Thompson, born Oct. 1, 1947 in New York City, was just out of his teen years when he joined the Arkestra, mainly filling a spot in the reed section where his baritone and flute were often prominently featured in concerts and recordings. He was still a child when his family moved to Los Angeles where he was nicknamed Pico after the street where he lived.
His father, Oscar, was a research scientist, and the first African American to receive a degree from the University of Texas. But it was his mother, Elgie, who encouraged his participation in music, the arts, and the theater. All of these attributes would play a significant role in the colorful garb, the theatrical, and the festival-like performances with the Arkestra. After graduating high school, he returned to New York City and began taking night classes at Juilliard. In 1966, he performed in his first concert with the Nigerian percussionist Babatunde Olatunji. Allen was also a member of the band and later introduced Thompson to Sun Ra.
A year later, Thompson joined the group but not as a musician. His job was to watch the band's house on the Lower East Side every Monday night while the Arkestra performed its weekly gig at nearby Slug's Saloon. In a short period of time he was promoted to be the band's driver, but it wasn't long before his proficiency on his instruments earned him a place on the bandstand.
Thus began his long tenure with the Arkestra and the duties and responsibilities he had holding the ensemble together, including dancers and audiovisual members as he set up the bandstand, distributing the music, and making sure the various costumes and attire were properly adorned. In effect, he was the band's manager, and that assignment was extended to handling the albums and setting up the multitude of engagements around the planet. These obligations were increasingly challenging during the band's travels abroad, but Thompson was as adroit and dependable here as he was selling and accounting for the record sales, something he called "improvisation."