Mia Frasier, a 2020 graduate with a master plan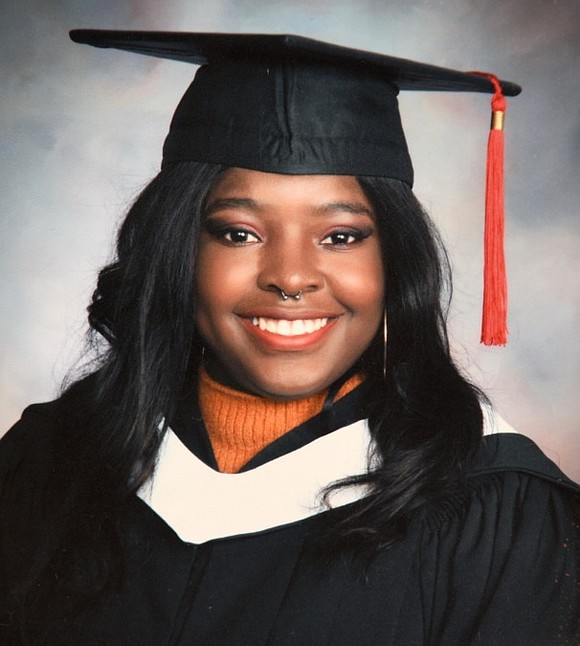 Mia Frasier is a recent graduate from SUNY Oneonta. The Class of 2020 student, said she really enjoyed her four years at SUNY Oneonta, located in upstate New York about two hours away from the city. Frasier studied theater and business during her course at the university.
Her interest in performing arts peeked when she was in middle school. Frasier was a part of many school play productions when she was younger and has never stopped since. 
"In high school, I had such a great experience both on stage and off. There are so many roles you can choose from. From being in charge of lighting to costumes, you'll always be productive."
She hopes one day she is able to be part of a production team on Broadway. "I truly believe that I would  be a great fit on the production team. It would be truly a great and fun experience."
Frasier's top two plays she enjoyed working on were "A Midsummer Night's Dream" and "A Raisin in the Sun." "I will never forget how beautiful it was to see the light shine down on the art in one of the scenes in 'A Midsummer Night's Dream.'" For "A Raisin in the Sun," she was the stage manager. "It was actually my first time as stage manager, and it's quite difficult to manage. But I learned so much, and the professional staff were always supportive and helped me whenever I needed them."
Frasier advises those who are theater majors to never give up on your dreams. "There were a lot of times where I auditioned, and I didn't get the role. Like any other person, I was disappointed at first but then I realized I may not have been the best fix for that role. Every audition is a learning process. You learn what are your weaknesses and strengths."
Frasier plans to go back to school to earn her master's in business, "Theater is one of those majors where you don't really need to go back to school to succeed in but I want to eventually branch out into the business aspect of performing arts."