Activists celebrate Biden-Harris victory, condemn Trump's defiance in NJ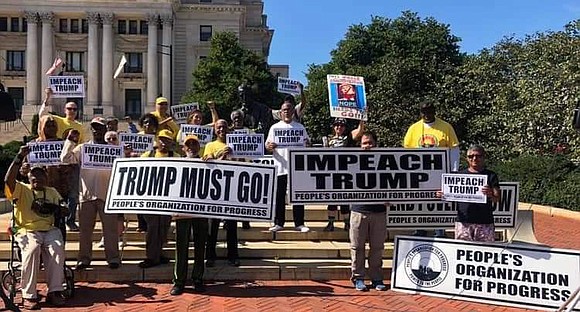 Activists in New Jersey continue to hit the streets in the wake of President-Elect Joe Biden and Vice President-Elect Kamala Harris' win. At the same time, they are speaking out against President Donald Trump's lack of acknowledgment over losing the 2020 presidential election.
As expected, the Democratic Biden-Harris ticket won New Jersey taking over 57% of the vote against incumbent Republican Donald Trump, who took over 41% of the vote. Trump often goes to the Garden State to spend time at his golf course and other events at his property in Bedminster.
Most of Trump's support came from south and northwest Jersey while Biden supporters came out in droves in New Jersey's urban centers like Newark, Jersey City and Trenton.
Leading up to the election, activist group the People's Organization for Progress hosted a major march and rally in Newark Oct. 3 condemning the Trump administration by bringing together social justice forces from the entire state; P.O.P. also organized "Empowerment Saturdays" consisting of voter registration drives.
A day after the election, P.O.P. organized a rally and march at the Lincoln Monument to condemn Trump's efforts to stop the vote count and various lawsuits to sway the election in his favor.
"Trump's disregard of millions of voters who voted early is abominable and cannot be allowed to happen," said P.O.P. founding chairman Lawrence Hamm. "The Supreme Court and federal courts are packed with his appointees."
On, Monday, Nov. 9, P.O.P. continued its Justice Monday Protest against police brutality
at the Federal Building in Newark. The protest celebrated the Biden-Harris win but also spotlighted New Jersey's recent police brutality cases including Abdul Kamal, Kashad Ashford, Jerome Reid, Radazz Hearns, Darryl Fuqua, Jameek Mallory, Maurice Gordon and most recently Hasani Best, who was killed in a mental health crisis in Asbury Park in August.
"We hope the country's national will and the integrity of the process prevails as he pursues legal action," said Hamm. "Beyond that, this election had the largest voter turnout in American history. I want to especially commend the work of our members who worked hard in our Voter Registration efforts, and others who have done so in communities like ours around the country."
At this week's Justice Monday protest, activists condemned Trump's continued disregard of the Biden-Harris victory. They say the stance continues to contribute to the growing COVID-19 pandemic and national security issues.