Harlem native and Negro League All-Star Jim Robinson passes away
Jaime C. Harris | 10/8/2020, midnight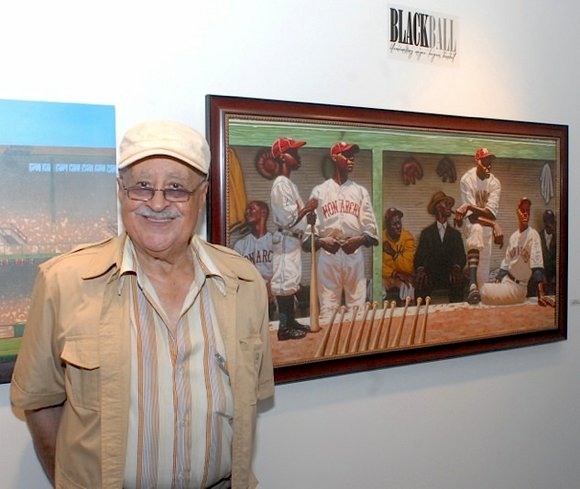 The Negro Leagues were part of Jim Robinson's DNA. Chromosomes carrying the history and culture of the great Black baseball institution as a representation and microcosm of America. He was a son of Harlem, growing up on 112th Street between 7th and St. Nicholas avenues. A product of the Harlem YMCA. Molded at Commerce High School where the magnificent Lincoln Center now stands. Evolving into manhood as a scholar-athlete at North Carolina A&T before manifesting into a sublime Race Man, earning a master's degree in social work from The City University of New York.
He was truly a national treasure, memorialized in a commercial for the 2020 Toyota Highlander sports utility vehicle titled "Home Team," an ad that honors the 100th anniversary of the Negro Leagues. Robinson transitioned last week at the age of 90, joining many of his baseball brethren on heaven's meticulously manicured field of dreams.
Although Robinson briefly played for the Philadelphia Stars in 1952, it is the uniform of the Kansas Monarchs he is undoubtedly wearing. As a second baseman, shortstop and third basemen for the Monarchs from 1956-'58, he was a three-time Negro Leagues All-Star—twice at 2nd and once at short.
In a profile I wrote for this publication four years ago, I fondly expressed, "Of the many years this writer has known Robinson, it is the times we have spent together at Negro League celebrations and gatherings, engaging with legendary figures such as the late, great Buck O'Neil and the late Larry Doby, the first Black ballplayer to play in the American League, where he has exhibited unbridled passion and reflection."
Jim Robinson was my friend. A sage who helped instill in me an obligation to uplift and maintain the sacredness of Black culture and history. We would call each other for conversations that lasted several hours. He would occasionally send me letters and notes that I cherished being delivered by a mail carrier and not transmitted via modern technology, which for the record Jim also utilized. There was something pure about unfolding paper and reading Robinson's neatly penned cursive, like the humble and proud communication that accompanied the Opening Day 2016 issue of Memories and Dreams magazine, the official magazine of the National Baseball of Hall of Fame.
Beginning on page 17, there is an outstanding feature written by Danny Torres, chronicling the friendship between Robinson and Brooklyn Dodgers icon Roy Campanella, how he helped alter the trajectory of Robinson's life. Campanella, who made his Major League Baseball debut with the Brooklyn Dodgers in 1948, a year after his close friend and teammate, Jackie Robinson, broke MLB's color barrier, worked along with Jackie Robinson at the Harlem YMCA during the offseason.
In 1948, 18-year-old Jim was introduced to Campanella by Wardy Davis, his basketball coach at the YMCA. Out of high school for about one year, Robinson was craving an opportunity to continue his education and play baseball. Through a close contact, Campanella ultimately created a pathway for Robinson to attend North Carolina A&T. He was awarded a full baseball scholarship by the HBCU in 1949. Nearly 40 years later, in 1987, Robinson was inducted into the Aggies Sports Hall of Fame.
Among his many laudable accomplishments was reviving the baseball program at South Carolina State, at which he was the head coach from 1990-'93. But it was preaching the gospel of the Negro Leagues that defined Robinson more than any of his achievements and perpetually fed his spirit. Energized up to the latter years of his life to share artifacts, stats and anecdotes, and to ensure its legacy endured, he was involved with organizations such as the Society for American Baseball Research and the Negro League Baseball Museum in Kansas City.
In 2018, Robinson expressed to me this cautionary outlook: "I think as the years go by unfortunately there will be less and less discussions of the Negro Leagues and the Negro Leagues place in American history. Very few young folks know about it. When I travel the country and speak about the Negro Leagues, they are in the dark. They have little idea about how important it was," he expounded.

"There will be few people to uphold our history. There will be less and less people who have first-hand experience and deep knowledge of its greatness. When you look at what it meant to us as a people," continued Robinson, "as business owners, having our own, not depending on white people to accept or validate us. We knew we had some of the best players in baseball, and before Jackie was called up by the Dodgers and Negro League players went up against the best white players, we proved it."
Another of Robinson's friends, baseball historian Mel "Doc" Stanley, put the tireless Negro Leagues advocate's legacy in perspective. "Jim was a helluva baseball player," Stanley said to me during a phone conversation late Tuesday night. "He was mentored by some of the all-time greats.
"But his most lasting importance will be his love for the Negro Leagues. He was one of its loudest and most respected voices. Jim was determined to keep the banner of the Negro Leagues flying."
A wake for Robinson will be held Oct. 14 between 12 p.m. and 4 p.m. at Benta's Funeral Home located at 630 St. Nicholas Avenue in Harlem.