Plan to control COVID cases in hotspots met with resistance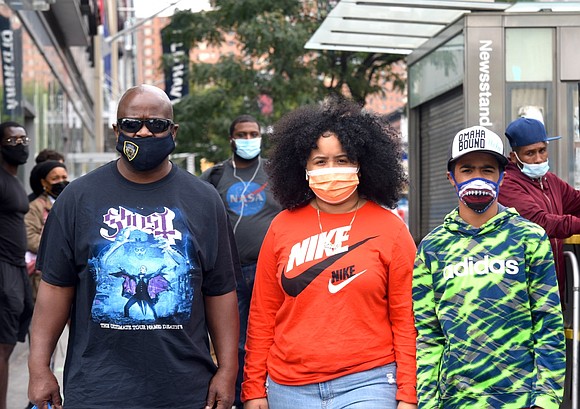 As efforts move forward to slow the spread of COVID-19 throughout the city, officials are warning that hospitalizations could see an increase as closures in some neighborhoods are being met with resistance.
Brooklyn and Queens continue to be the focus areas that have been deemed "red zones" with Brooklyn seeing a 4.5% positive test rate. Officials hope to prevent a second wave of COVID-19 with restrictions and closures in those areas.
"In New York our strategy is to identify micro-clusters," Gov. Andrew Cuomo said. "We do more testing than any other state, so we have more data. We also are obsessive about getting incoming case numbers from the hospitals. You map those cases and you find the greatest predominance of cases in a geographic area. That is a micro-cluster."
Cuomo added that the COVID-19 infection rate statewide is at 1%. Areas in the state seeing infection rates higher than that are deemed "micro-clusters." This week the state reported an increase in COVID-related hospitalizations. On Monday, Oct. 12 there were 878 hospitalizations compared to just 58 on Sunday, Oct. 11.
"We've got certainly a lot of work ahead, but we are seeing some leveling off, beginning in the communities that have been most affected," said Mayor Bill de Blasio. "And it's really about everyone in the community participating, it's about everyone understanding that it's all of our business to fight back this disease together and that individual buy-in and participation is the single most important tool––we've learned that long ago about the coronavirus."
The mayor added that this week is critical to get the city in the right direction. He said outreach, education, testing and enforcement are the key things that will put the thing son the path of lifting the restrictions in hotspots.
"This is the week where we can start to turn the tide in those red zone areas and contain the problem that we're seeing there," de Blasio said. "I fundamentally believe this challenge can be contained. I fundamentally believe that we can stop this problem we're seeing in Brooklyn and Queens before it grows that we can stop it from turning into a larger second wave in New York City."
However, slowing the spread of COVID-19 has been met with resistance in the city's hot spots. De Blasio reported that over the weekend, there were $150,000 in fines from 100 summonses by City agents. Protests are now flaring up in neighborhoods where schools, non-essential businesses and houses of worship are getting strict restrictions.
Protests have been primarily among the Orthodox Jewish community in Borough Park, Brooklyn. Activist Harold Tischler has been at the center of protest and was arrested on Sunday on charges of inciting a riot and unlawful imprisonment after a journalists was attacked. Tischler was released Monday night.
Videos posted online show Orthodox Jewish residents protesting in the streets, setting fires and waving Trump flags. Residents say they are being targeted as culprits in the rise in COVID-19 cases. They also disagree with the restrictions when it comes to houses of worship, which are only allowed 25% or 10 people maximum.
Brooklyn Borough President Eric Adams wants restrictions on houses of worship eased. He met with religious leaders in COVID-19 hotspots this week about the issue.
"We're sending the wrong message that even when you follow the rules, we're going to penalize you also and close down your establishment. That's just the wrong way to solve this problem," Adams said during a press conference. "Our goal is to get these houses of worship back open as soon as possible, so they can do their jobs of saving the lives of people who have been traumatized by COVID-19."
Small businesses in the hotspots continue to voice their disapproval of the restrictions. Small Business Services Commissioner Jonnel Doris said emails and other types of communication have been sent to all small businesses and he's met with business leaders, business improvement district leaders, merchants associations in the hotpots.
"We have spoken to small businesses concerning access to capital at this time, as many of them may need an infusion of cash to help and assist them," Doris said. "We've done that through our hotline and also to help them to navigate the lease challenges that they may have with landlords."