St. John's holds virtual Olympic Day
LOIS ELFMAN | 10/22/2020, midnight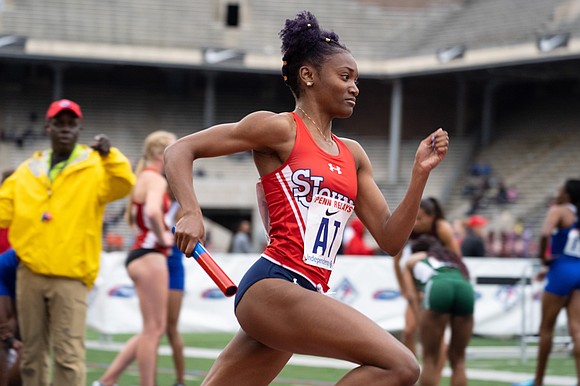 The mood was festive and reflective as people joined in via Zoom from all over the country Oct. 18 to celebrate St. John's University's eighth annual Olympic Day. This year's event honored St. John's alumni with Olympic ties: Peter Close, Patrick Jarrett, Dr. Ian Roberts, Rich Torellas and Marsha Henry Seagrave.
The Red Storm has been represented by 17 Olympians at 14 Olympic Games. When Seagrave again serves as head manager of the U.S. track and field team (she held that position in 2016 in Rio), it will bring the count to 15 Olympics. Also, St. John's assistant track and field coach Aliann Pompey, a four-time Olympian representing Guyana, will be integrally involved as an athlete liaison to the International Olympic Committee.
Two-time Olympian Connie Darnowski spoke about training for the 1952 and '56 Olympics while a student at St. John's. At the time, the university did not yet have a women's track team, so she squeezed in training time amid her class schedule.
Several current members of the track and field team joined the Zoom event, including sprinter Leah Anderson, who is hoping to qualify for the U.S. Olympic trials next year. She asked Seagrave about her competitive experiences. "I tried to come back, and I didn't really train," said Seagrave, class of 1994. She encouraged Anderson, "Don't give up on that dream. Keeping doing what you do. You've got to believe in yourself."
Track and field head coach Jim Hurt emceed the Olympic Day festivities. After several months away from campus due to COVID-19, he and the athletes have been back in action since late August. To adhere to social distancing, the practices are spread out, which makes for some long days.
"Our kids have been good; they've been following all the protocols," said Hurt. The athletes eased back into training. "We started nice and easy. We did some basic fundamental calisthenics, push-ups, sit-ups and little running. Some of our distance runners are close to their personal records already.
"Fortunately, we have a talented group of kids, so even if they're a little bit rusty, they can get into shape," he added. "People are starting to look good."
Cross country season has been postponed until the spring, and there is not yet a schedule for indoor track and field, but the athletes remain focused. Hurt said Anderson looks awesome.
"She's always in great shape," said Hurt. "The Olympics pushed off a year gives her some extra time to see if she can make the trials."