'Who Ate The Pie,' Harris welcomes audience
Ron Scott | 10/29/2020, midnight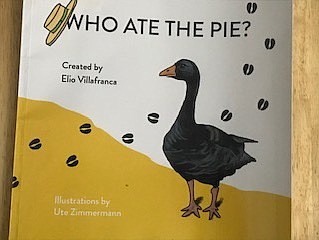 Elio Villafranca is one of the talents from Cuba, along with a few other countrymen, who is at the forefront of the latest generation of remarkable pianists, composers and bandleaders. Since arriving in New York City in 1995, he has become a Steinway artist and two-time Grammy award nominee; in 2019 he was nominated for Best Latin Jazz Album, "Cinque."
This double album is a history lesson set in a five-movement suite inspired by the story of Joseph Cinque, who in 1839 led a successful revolt aboard the slave ship La Amistad, days after being sold and transported to a sugar plantation in Cuba. The music showcases Elio's cultural diversity of the five Caribbean islands of Cuba, Puerto Rico, Haiti, the Dominican Republic and Jamaica, while engaging the Congolese musical heritage and unifying the involuntary terrorist looting of Africans to the Americas. His large ensemble was a varied all-star delegation, from saxophonists Vincent Herring and Greg Tardy, trombonist and conch shell player Steve Turre, trumpeter Freddie Hendrix, drummer Lewis Nash, Villafranca on piano maracas, guataca, campana, coros; to percussionist Miguel Valdes on batá drums, congas, bombo and coros, guest trumpeter Wynton Marsalis and Don Vappie on banjo.
Villafranca's current project is entitled "Who Ate The Pie?" That could possibly be a tribute to Lester Young, but it's a children's book, the pianist's first venture as an author. "I always wanted to write a children's book linked to music," stated the pianist. "I started writing the book as a gift for my friend's child but my schedule forced me to put it on hold. The pandemic was the perfect time for me to finish, so I hired an illustrator, Ute Zimmermann, and got busy. The original music for the book has a Thelonious Monk flavor to it."
"Who Ate The Pie?" (AuthorHouse) is a colorful journey into the world of animal sounds and their unique foot prints. "Children learn a lot by shapes like triangles and squares. Here they learn the shapes of different animals' footprints," says Villafranca. "Eventually I am going to have the book online so children can hear the original animal sounds and maybe play music on piano written in the book." Those musicians who read the book to their children can take pride in playing the music written by Villafranca in the back.

For me the book turned out to be more of a detective Columbo mystery. Who ate the pie was the question Mr. Goose asked various animals as he travelled the world with the footprints at the scene of the crime as his only lead. Children and parents making the funny animal sounds as they read while learning about the geometrical shapes of animal footprints is exciting but most of all "Who Ate The Pie?" is the burning investigative question and would you believe the footprints actually threw me off—how embarrassing.


The book has just been published by AuthorHouse (https://www.authorhouse.com/en/search?query=%099781665500616) and is now on sale on their website, and soon to be sold worldwide at all major retail stores.
After a dismal seven months without live jazz around the world (outdoor festivals and indoor concerts) due to the dreaded COVID-19 pandemic, audiences in New York City are resurrecting once again. The trombonist, composer and media artist Craig Harris and Harlem Night Songs are ready to ignite audiences with live in-person jazz that jumps up from the root.
Live every Friday at Mt. Calvary Baptist Church (43-50 West 124th Street) Craig Harris & Harlem Nightsongs will perform one set at 7 p.m. His core group consists of on reeds Jay Rodriguez, bassist Calvin Jones and drummer Tony Lewis with special guest artists each week. On Oct. 30 trumpeter Eddie Allen; Nov. 6 saxophonist James Stewart; Nov. 13 trumpeter Franz Hackl. These guests as well as the core band were all members of Harris' big band that raised hell throughout the USA receiving rave reviews.
Harris wanted to make it perfectly clear they are following the latest COVID-19 protocol. There will be no more than 40 people in the audience; three people per row at least six ft. apart in every other row. Following the concert everyone is expected to leave immediately—there will be no mingling or chatting with musicians. Masks are a necessity and temperatures will be taken before entering the church. All tickets are $20 and must be purchased online.

This is Harris' eighth year presenting live jazz in the Harlem community. "This pandemic has put many working musicians out of work," said Harris. "This project is a start to put musicians back to work again and eventually we to add livestreaming which is another part of the income factor."



Harris went on to say, "Music is part of the Harlem community and this is a good time for us to get our people back into the culture of this music. This is our attempt to get people to come out to hear good music in a safe space."
Harris, a long-time resident of Harlem, is one the world's premiere trombonists and composers. He doesn't like to be categorized as a jazz musician although he is primarily known for his avant garde affiliation. He also has a kick-butt funk band, the Tailgaters, and his double album set "The People's Choice" (Afro Future Concept 2019) is an explosive tribute to Muhammad Ali. It is just as significant as Miles Davis' Jack Johnson tribute (Columbia Records 1971). His diversity stretches to the Broadway stage where he was a pit-musician for "Lena Horne: The Lady and Her Music," her one-woman show.
"We need to grow our music in the community, set the guidelines for our own culture. We have to go back to the basics and work from the community," says Harris during our phone interview. "We can take something positive form this pandemic, this can be built into something presenting our culture. We are doing this from the heart for the community and musicians."
The importance of jazz music, community and the culture with its many twists and turns from mother Africa is an important discussion that Harris has heard many times from his elders like Randy Weston, Rahsaan Roland Kirk and Gigi Grice. These times are most crucial; it is a time for Black folks to come together rejuvenated as a force to be reckoned with and not as a reactionary cloud with no plans to lead the struggle at hand.

For tickets, COVID-19 regulations and complete schedule visit the website harlemjazzboxx.com.