Chadwick Boseman, RIP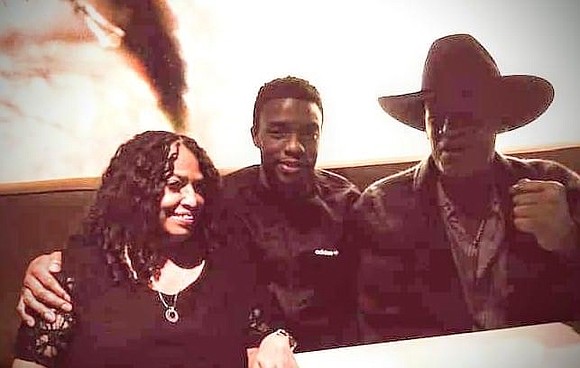 The entertainment world and fans are mourning the unexpected death of actor Chadwick Boseman, who passed away on August 28 at the age of 43. The "Black Panther" star had quietly married his fiancee, Taylor Simone Ledward, whom he called Simone. Along with his family, she was by his side when he left this earth. Chadwick was a big boxing fan, and I was fortunate enough to have spent some time with him at the Showtime party following the first Deontay Wilder/Tyson Fury fight in December 2018 in Los Angeles. I told him I was a fellow Howard University alumnus, and asked him to take a selfie with Michael Spinks and me, which he happily did. He teased me that my phone was old and told the Champ that he should get me a new one. I asked him when we could expect "Black Panther 2," to which Chadwick answered, "You know I can't tell you that." Meanwhile, while hosting his annual Brooklyn Loves MJ Block Party to celebrate Michael Jackson's birthday on August 29, Spike Lee reportedly spoke about no one having any idea that anything was wrong with Chadwick and how he was going through treatment when they shot "Da 5 Bloods" in Thailand. Said Spike, "Chadwick, a trooper, never complained." Rest in peace, sweet prince.
The groundbreaking autobiography of the first African American billion-dollar dealmaker, Reginald F. Lewis, will be available soon on audiobook. "Why Should White Guys Have All the Fun? How Reginald Lewis Created a Billion-Dollar Business Empire" will be streaming on Audible.com, beginning September 10. Lewis grew up in segregated Baltimore in the late 1940s, when Black people had few to no privileges. At six years old, he asked his grandparents, "Why should white guys have all the fun?" The book continues to inspire countless entrepreneurs, professionals, and young dreamers since it was first published by Black Classic Press in 2005.
Quarantine Work Exclusive! Beyoncé and Jay-Z may be reportedly jet-setting around the Hamptons on a small yacht with Twitter CEO Jack Dorsey, sipping Champagne, but sources say Queen Bey has also been hard at work while on vacation. According to my sources, the superstar songstress taped a commercial for Adidas at the LTV TV Studio in East Hampton recently. Sources say she took over the entire facility. They don't call her the hardest working woman in show business for nothing.
"The entire world is struggling…This is not the time for sleepwalking." So says Wynton Marsalis. His latest opus, "The Ever Fonky Lowdown," is a sprawling jazz opera that offers his panoramic view of modern society. Featuring the Jazz at Lincoln Center Orchestra, narration from acclaimed actor Wendell Pierce, and guest vocals from Camille Thurman, Ashley Pezzotti, Christie Dashiell and Doug Wamble, this lowdown is as timely as it is funky.