CHARLI PERSIP JAZZ DRUMMER DIES AT 91, JOHN FELDER JAZZ ENTHUSIAST DIES AT 69
Ron Scott | 9/3/2020, midnight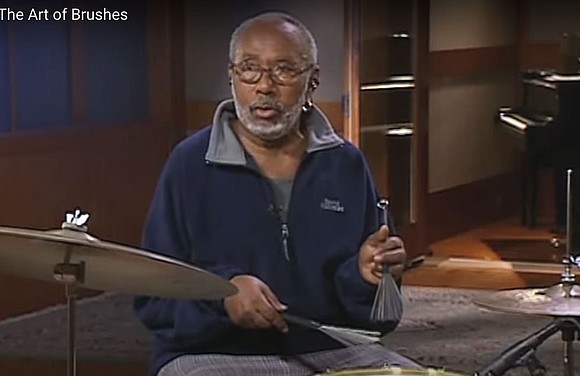 CHARLI PERSIP, the skillful jazz drummer and composer most known for his long stint with Dizzy Gillespie and as leader of his own small combos and prolific big band Supersound, died at Mt. Sinai Morningside in New York City on August 23. He was 91.
His daughter, Jean Elliott, confirmed his death; no cause was stated.
Due to the rising high costs of his health issues in 2018, a fundraiser was held that also celebrated his 89th birthday (a GoFundMe page was started). The event's guest musicians included members of his former combos and friends such as bassist Paul West, saxophonist Patience Higgins, Ray Blue and Randy Weston.
Last year, Persip attended his surprise 90th birthday celebration at the National Black Theater in Harlem. The elder drummer was graced by an incredible list of drummers he inspired over the years including E.J. Strickland, Nasheet Waits, Andrew Cyrille, Carl Allen and Jack DeJohnette.
Along with his virtuoso drumming skills, Persip was an educator. During the 1970s and 1980s he was the instructor of drums and music for Jazzmobile, Inc. in Harlem. Until his retirement he was an associate professor at the New School for Jazz and Contemporary Music in Manhattan. He wrote the book "How Not to Play the Drums: Not for Drummers Only." "Charli is the only drummer I studied under for trap drums," said Craig Haynes. "He was a great first teacher. I didn't tell him until later that Roy was my father."
Charles Lawrence Persip was born on July 26, 1929 in Morristown, New Jersey. He was raised in Newark, New Jersey, and attended West Side High School and later studied drums with Al Germansky. Formerly known as Charlie Persip, he changed the spelling of his name to "Charli" in 1980. The young drummer earned a reputation while playing in various Newark clubs, a city that was becoming a hotbed for jazz. He moved to New York City where he quickly got a spot playing with Tadd Dameron in 1953.
He later enjoyed a long stint (1953-'58) with the bandleader and composer Dizzy Gillespie recording over 12 albums with the master trumpeter. Persip appeared on the "Eternal Triangle" recording, Sonny Side Up (Verve Records) that featured Sonny Rollins and Sonny Stitt. "I was setting up my drums for the date when Sonny Stitt walked; we said a few words and then Sonny Rollins walks in and breaks out his horn and I'm like damn, 'These guys the jazz titans are on this date?' and Dizzy says, 'Yeah, man,'" Persip describing this date on YouTube. "Man I was nervous playing with those cats, but once the music started all my nervousness just went away and the music was so great. The music will set you free."
Persip's reputation earned him opportunities to play with such established musicians as Lee Morgan, Dinah Washington, Rahsaan Roland Kirk, Eric Dolphy and joining Harry "Sweets" Edison's quintet and later the Harry James Orchestra. In 1960 he formed his own landmark group, the Jazz Statesmen, with Roland Alexander, Freddie Hubbard and Ron Carter. "Charli was more than a great percussionist and bandleader—he was responsible for my big step in 1946 when he told Dizzy to hire me," said Paul West. "I owe him a great debt for that. I was 22 years old and Lee Morgan, who Dizzy also hired, was only 18."