A Black man's emotional recovery from 9/11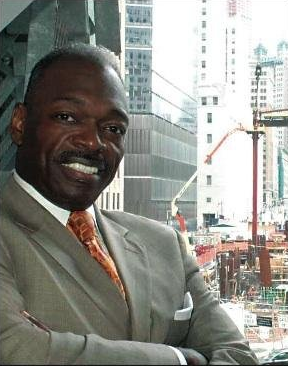 Editor's Note: This article was originally published in 2012
Frederick Myers plans to spend this September 11 in solitude. He's going to take a day off from work and doesn't have plans on watching the hours of news coverage remembering the tragic day. He plans on meditating and reflecting on humanity.
Even eleven years after the horrific tragedy of September 11, Myers cannot hold back the tears when he talks about the massive loss of coworkers he lost on the day that changed the world.
A two-time survivor of both World Trade Center attacks in 1993 and 2001, the memories of the attack and the inhumane act still stays with him today. Myers attributes his faith in God and the inspiration of his daughter to what keeps him going.
The grief and pain Myers carry were prevalent during an interview with the AmNews while telling his story. His emotions over-flowed at times as he discussed the details of September 11.
"I've skipped over two terrorist attacks," he said. "I can't explain it."
A former employee of the Port Authority of New York and New Jersey for 20 years, which had its headquarters in the World Trade Center, Myers worked on the 64th floor of the North Tower. While Myers was not in the building during the 1993 bombing and the 2001 plane crashes, he considers himself a survivor because during both instances, he was supposed to be in the buildings.
"All survivors didn't come out with dust and blood on their faces," he said. "My testimony is that God steered me away from death two times. I was steered away from harm's way two times."
On February 26, 1993, Myers was planning to take a half vacation day but decided to take an entire day off. The truck carrying 1,500 pounds of explosives that was planted in the underground parking garage of the North Tower, which killed six people, detonated at 12:17 p.m. Myers said he would have been in the garage leaving for home on that day.
He said, "People had to run for their lives. We had to evacuate the building in the past, but we had no idea this time that we were the victims of an international terrorist attack. God didn't have me in the basement, and if he saved me one time, he'll protect me again."
Things were different after the 1993 attack, according to Myers. There was increased police, more lights and cameras put in place at the World Trade Center. But along with the increase of security, fear of the possibility of another attack happening began to rise.
"These terrorists had created fear and uncertainty," he said. "You always had a sense of 'Could it happen again?'" On September 11, 2001, it did happen again.
Eight years after 1993, Myers was still working for the Port Authority. By this time, he had been married and was the father of a 7-year-old daughter. He was a human resources project manager for the chief operating officer.