LYNCHED ON CAMERA - Rochester Rocked: Daniel Prude police killing ignites outrage
CYRIL JOSH BARKER Amsterdam News Staff Additional reporting NAYABA ARINDE Amsterdam News Editor | 9/10/2020, midnight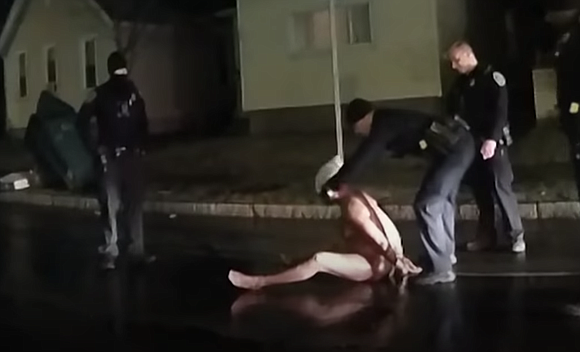 The fallout after video surfaces of an unarmed Black man being physically restrained in Rochester, N.Y. resulting in his death is causing civil unrest in the state's third largest city, police reforms and even the resignation of a top law enforcement official.
The situation involves Black, 41-year-old Daniel Prude who was killed by officers from the Rochester Police Department on March 22. Prude was reportedly visiting his brother when he began to have a mental episode. Prude's brother called 911 and Prude was taken to a hospital for an evaluation and was later released.
Prude continued behaving erratically hours later and his brother called 911 again. Officers found the man naked on the street. Police say he complied when he was ordered to get on the ground but began spitting at police, making them decide to place a spit hood over Prude's head.
Police tried to get Prude off the ground. One of the officers used his body weight and his hands to push Prude's face onto the pavement while another officer placed his knee to Prude's back and another held his legs. Prude began vomiting and was unconscious after being restrained.
Prude was taken to an area hospital and his heart was revived while in an ambulance but was incapacitated before becoming brain-dead. He died a week later after he was taken off life support. Reports indicate Prude died of complications from asphyxia and his death was ruled a homicide. An autopsy report claims Prude had the drug phencyclidine (PCP) in his system.
Prude's brother Joe said police "assassinated" his brother and should have helped him rather than kill him. The family announced plans to file a wrongful death lawsuit against the city of Rochester.
"If you look deep down inside your heart, you understand that all we are really asking for is justice," Joe Prude said at a recent rally. "That's all I want for my brother. Nothing else but justice."
Bodycam footage of the incident were released last week. The officers involved in Prude's death have been identified as Michael Magri, Josiah Harris, Paul Ricotta, Francisco Santiago, Andrew Specksgoor, Troy Taladay and Mark Vaughn. All of the officers were suspended by Rochester Mayor Lovely Warren pending an investigation.
"Mr. Daniel Prude was failed by our police, our mental health care system, our society and by me," said Warren. "And, for that I apologize to the Prude family and all of our community. In August 1962, my cousin's grandfather Rufus Fairwell was a victim of police brutality and eventually became the first citizen of Rochester to receive a settlement for his suffering. It is now September 2020 and Daniel Prude's death has proven yet again that many of the challenges we faced then still exist today."
In a joint statement, members of the Rochester City Council said law enforcement failed Prude rather than helping him.
"No person should have to endure what we saw on the body camera footage," the Council said. "In a moment of need, his family reached out for help and our system failed Mr. Prude at every turn. Like many in our community, the Council only learned of and saw this footage today. While we are extremely troubled by this matter, we are limited in what we can do at this time."