Black Theatre Coalition: Working to eradicate racial inequity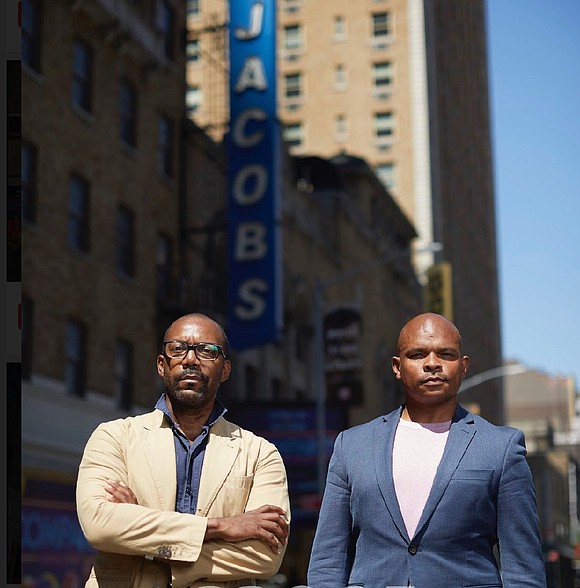 Black Theatre Coalition (BTC) is an idea whose time is now! The "Illusion of Inclusion" is such a powerful thought and so appropriate when it comes to Black people and the American theater. BTC co-founders T. Oliver Reid, Warren Adams and Reginald Van Lee, along with Executive Director Afton Battle and board member Aaliytha Stevens, have made it the organization's mission to increase employment opportunities for Black theater professionals and eradicate the long-standing racial inequities in American theater. I recently spoke to Reid and Adams and a Q&A follows.
AmNews: How did you go about making the partnerships with non-Blacks in top companies and professionals across every major sector of the Broadway ecosystem, including producers, designers, directors, general managers, casting directors, press agents, advertising and marketing executives, booking agents, attorneys, and theater companies? Why should they care about giving Black people positions that white people have had secured in theater for, as you report, 154 years?
Warren Adams: T. Oliver Reid and I have been working in this industry for more than two decades, so we have access to many of these offices. We cannot force anyone to do anything they don't want to do. All we can do is present the facts, and the data doesn't lie. These decades-long practices have been unethical, so it really comes down to them to decide if they are going to continue to be a part of that, or if they are going to be a part of the sweeping ethical changes we have proposed. This is not about white versus Black. It is about everybody versus racism. So our white colleagues simply have to decide which side they choose.
T. Oliver Reid: I have been in the Broadway industry for more than two decades, in 13 Broadway shows, with more than 20 Tony Awards between them. Through the connections that I have made as well as Warren's, we were able to reach out directly to the producers, creatives, company owners that work constantly and explain what our goals as an organization are. Our non-Black accomplices, in large part, didn't know this information…because they didn't need to. If, as a white creative, the jobs are always within your reach, why would you need to know the data or possibilities for Black professionals. However, when you see the numbers, especially in the midst of the Black Lives Matter Movement, it would be difficult for the theater industry to turn an unaware or blind eye to the goals of equity for Black professionals.
AmNews: How are you going about making the connections with the colleges and universities to have a pipeline of students to come into the business?
TOR: I started reaching out to many schools/programs either through their websites or through personal connections with faculty. There needed to be a personal connection to the schools and to the students in order for us to start/build the pipeline. Between HBCUs and other mainstream theater programs, we've already started dialogue and hope to bring more programs/schools into our pipeline, so that as the students graduate and join the workforce, they already feel connected to the industry. The college programs and their faculty have their own connections and we also utilize those to reach programs outside of our purview.
AmNews: When you say that people in these top companies will work to bring Blacks into the fold, how can you monitor that this actually occurs? What incentives do these people have to cooperate with what Black Theatre Coalition is trying to do?
TOR: I think that leaders in our community needed leaders in this movement. BTC has actionable items that allow these companies to locate and hire Black professionals. Our intention is to continue conversations with the company owners as well as those who are being hired. I think the incentive is to be better than they have been. We are also standing flat-footed in a moment and a movement that is shining light on disparity in this industry and this moment requires more than a bandaid fix. This moment and BTC, along with sister organizations including Broadway Advocacy Coalition, Black Theatre United, Broadway Serves, BFRJ, Black Theatre Girl Magic and more, are all pushing for change…all monitoring the change.
AmNews: Who would play the part of creating the partnerships with the Broadway shows like you have with "Company," where you have gotten the producers of the revival of the Sondheim musical to offer 10 paid positions as apprentices from production to each creative design area when the show goes back into rehearsal and opening night?
TOR: BTC will be working with every show that is interested in doing the same. There are already conversations with other Broadway shows who want to do better.
AmNews: During your transformation stage when you do the three works with all Black creative teams—one original musical, one revival of a musical and one new play—will you also be utilizing an all-Black cast? If so, how can actors contact you? In order for actors to be in the show do they have to be professionals or can they be college students?
TOR: As part of our ecosystem, we are working to have Black casting directors in all casting offices and those Black professionals will help us and the creative teams cast each of the three shows. These shows will be the culmination of work in our fellows program and working with the best in the business across all fields. The inclusion of college students will truly depend on their location and class schedules and their readiness for working in a professional atmosphere.
AmNews: How did everyone that is connected to this organization come together—T. Oliver Reid, Warren Adams, Reginald Van Lee and Afton Battle come together, along with board member Aaliytha Stevens, because all your backgrounds just seem so perfect for the mission at hand. Reid and Adams are also artistic directors for BTC; Lee, board chair, is the Chief Transformation Officer for The Carlyle Group; Battle has extensive knowledge in fundraising and development management, working in nonprofits for 10 years; and Stevens is the Chief Operating Officer for Spotco, a leading advertising, branding and marketing agency.
TOR: I reached out to Warren over a year ago with the beginnings of an idea and we continued our "coffee dates" until this spring when we went on pause. Then those dates turned to Zoom calls. We both knew Reggie [Van Lee] separately but both also knew he was the only person to be our cofounder due to his philanthropic work in theater and his business acumen. Warren was in close contact with Aaliytha and brought her on board. I reached out to a friend who gave me Afton Battle's information and we reached out to her and I was told by friends to NOT let her slip through our fingers. We didn't!
AmNews: To each of you, what made you want to create and/or be a part of this organization?
WA: The theater district is in the heart of Times Square, where on a daily basis you experience the most diverse group of people, languages and activities on the streets, more than anywhere else on the planet. However, when you walk into the buildings where our theatrical ecosystem functions, there is no correlation and it is not demonstrative of what is happening outside.
TOR: I have had the good fortune of a long-lasting career on Broadway, but I have always known that there was a greater purpose for me. BTC is truly bringing together the information from a lifetime of learning so that we can change the playing field and increase the numbers of Black professionals working in theater. Our hope is that there are people in other industries who have felt the same calling.
AmNews: This is a time when Black people are having a revolution in so many aspects of life, it truly is the perfect moment to take up this cross and set a goal to change the world—how can other people get involved and work along with this marvelous organization?
TOR: Go to www.blacktheatrecoalition.org and subscribe to find out what's happening with the org and its fellows. If you work in theater, be sure to get us your info for our database. If you have funds and want to support a fellow, DONATE!
AmNews: How do you want to work with other new organizations like Black Theatre United, Broadway Advocacy Coalition and Broadway Serves?
TOR: In tandem as often as we can. Each group has its own area of focus and when opportunity arises, we hope to work together. Our joined forces will continue the movement when the industry wants to "get back to normal." This generation of Black professionals is our new normal.
AmNews: Is there anything that I didn't mention that you want to talk about?
TOR: Broadway is truly the top of the food chain and we are focusing here, right now, but our long-term goals are to make the whole of this industry, from Broadway to small town theaters, more equitable. To have more Black artistic directors—there are currently three, I believe. To connect with kids in middle and high school and maintain those connections throughout their careers, should they decide on a career in theater.