Black Theatre Coalition: Working to eradicate racial inequity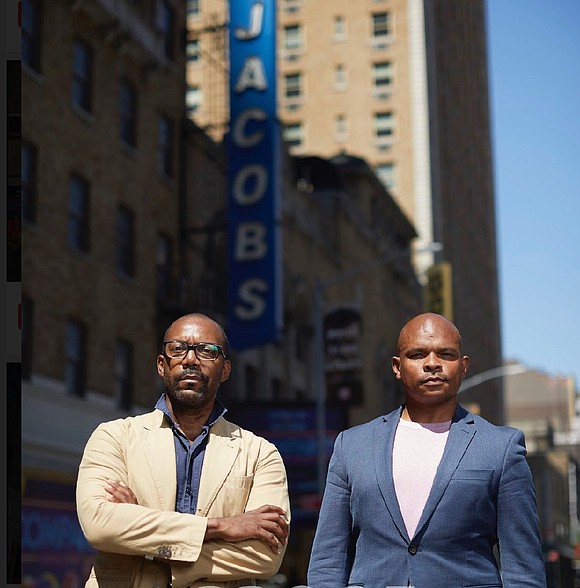 Black Theatre Coalition (BTC) is an idea whose time is now! The "Illusion of Inclusion" is such a powerful thought and so appropriate when it comes to Black people and the American theater. BTC co-founders T. Oliver Reid, Warren Adams and Reginald Van Lee, along with Executive Director Afton Battle and board member Aaliytha Stevens, have made it the organization's mission to increase employment opportunities for Black theater professionals and eradicate the long-standing racial inequities in American theater. I recently spoke to Reid and Adams and a Q&A follows.
AmNews: How did you go about making the partnerships with non-Blacks in top companies and professionals across every major sector of the Broadway ecosystem, including producers, designers, directors, general managers, casting directors, press agents, advertising and marketing executives, booking agents, attorneys, and theater companies? Why should they care about giving Black people positions that white people have had secured in theater for, as you report, 154 years?
Warren Adams: T. Oliver Reid and I have been working in this industry for more than two decades, so we have access to many of these offices. We cannot force anyone to do anything they don't want to do. All we can do is present the facts, and the data doesn't lie. These decades-long practices have been unethical, so it really comes down to them to decide if they are going to continue to be a part of that, or if they are going to be a part of the sweeping ethical changes we have proposed. This is not about white versus Black. It is about everybody versus racism. So our white colleagues simply have to decide which side they choose.
T. Oliver Reid: I have been in the Broadway industry for more than two decades, in 13 Broadway shows, with more than 20 Tony Awards between them. Through the connections that I have made as well as Warren's, we were able to reach out directly to the producers, creatives, company owners that work constantly and explain what our goals as an organization are. Our non-Black accomplices, in large part, didn't know this information…because they didn't need to. If, as a white creative, the jobs are always within your reach, why would you need to know the data or possibilities for Black professionals. However, when you see the numbers, especially in the midst of the Black Lives Matter Movement, it would be difficult for the theater industry to turn an unaware or blind eye to the goals of equity for Black professionals.
AmNews: How are you going about making the connections with the colleges and universities to have a pipeline of students to come into the business?
TOR: I started reaching out to many schools/programs either through their websites or through personal connections with faculty. There needed to be a personal connection to the schools and to the students in order for us to start/build the pipeline. Between HBCUs and other mainstream theater programs, we've already started dialogue and hope to bring more programs/schools into our pipeline, so that as the students graduate and join the workforce, they already feel connected to the industry. The college programs and their faculty have their own connections and we also utilize those to reach programs outside of our purview.