The Harlem School of the Arts journeys on through pandemic
Tara Michel | 9/24/2020, midnight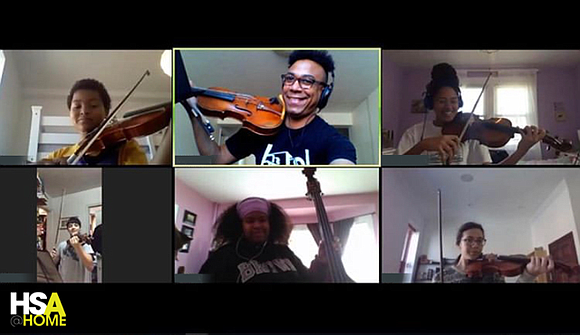 The Harlem School of the Arts has received $100,000 grant money from the Goldman Sachs COVID-19 relief fund, which was launched to support pandemic response efforts by organizations worldwide. HSA received a $50,000 grant in late spring and another $50,000 in July.
When the coronavirus struck NYC, HSA closed March 14. The pandemic led HSA to a significant loss of revenue due to the shift from in-person classes and because teachers and staff were uncertain if students would be able to continue classes. The staff recognizes that families may have a financial need and financial difficulties like loss of a job or an illness and taking online classes may be difficult for students. Some of the foundations and corporations that normally support HSA are unable to do so because of the virus. For instance, HSA has postponed their October gala that raises a million dollars at the Plaza hotel but due to public health concerns, the event is canceled this year.
When HSA shifted to online classes in March, they decided to give students dance, music, art and design, theater and private lesson classes on zoom. Students were able to maintain connections with their peers and teachers, and parents were able to watch their children find joy in their creativity. HSA was able to put 90% of their classes online and retain the same students and teachers.
"Although we're in this pandemic and in this crisis, we see the future moving forward," said HSA Chief Development Officer Talya Westbrook. "We want to make sure that students and their families have opportunities to still get the information they need to continue on."
During the pandemic, HSA has been doing important leadership work such as community programming and college preparedness. HSA has brought in experts to speak with students and teach them how to write college essays. This past summer HSA hosted a talk in NYC with thinkers and songwriters. Guests included Toshi Reagon, an activist, songwriter and musician.
Harlem is an international and national brand that people know and come from all over the world to visit, and that led to an unexpected positive outcome. HSA's online classes have attracted individuals worldwide. Individuals from different states and different countries are taking HSA Zoom classes. Some families wanted their children to have an outlet and wanted them to learn more about Harlem. HSA offers the opportunity for young students to explore and experiment.
Westbrook believes art, artists and designers are part of our essential workers and art is essential to the human experience. HSA is giving children a voice to express themselves about how they feel. The grants HSA received will allow the school to maintain the high level of quality arts education that they have been able to offer before the pandemic. The grants are a confirmation of the positive work HSA has done in the Harlem and NYC community.
The president of HSA, Eric Pryor, said, "Funding is like an investment and when corporations invest in institutions and invest in nonprofits, what they are saying is that we believe in their work, we believe in what they do, we believe what they are doing is important enough to make a financial contribution to support that work."
In a statement made by a representative of Goldman Sachs, they expressed appreciation for what HSA has been doing during these difficult times. "Thank you for HSA's important work and leadership. We value your partnership very much."
Westbrook stated, "Children in Harlem deserve access to the arts as much as any other child in this country. Our students are talented, smart, thoughtful and creative, and they're the next leaders. It's important for people to know that we're here, standing strong, we've been here for 56 years and will be here for another 56 years at least, and their support is making a difference in transforming a child's life."