The Nets have reached an early bump in the road
VINCENT DAVIS | 1/7/2021, midnight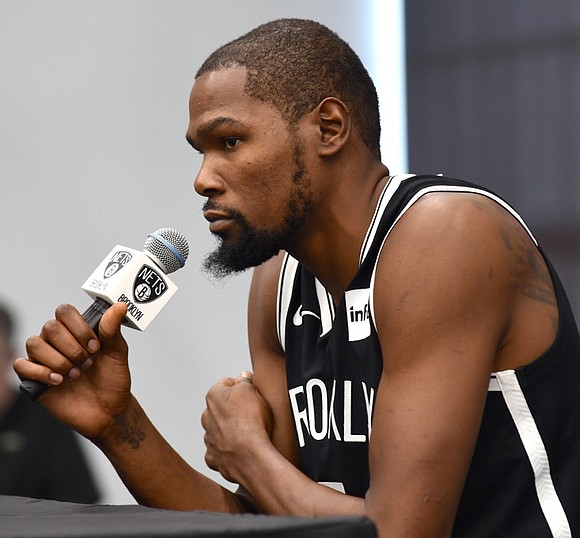 It's far too early to consider NBA playoff seeds with any near certainty. It's only the third week of the season, but looking at the standings, especially in the Eastern Conference, will make you do a double take.
The Orlando Magic, an 8th seed last season, was No. 2 in the conference at the beginning of the week. Conversely, the Milwaukee Bucks, who had the league's best regular season record at 56-17, was No. 7. The New York Knicks, finished 12th in the East, were in the fifth spot.
Many unforeseen occurrences can happen to change a team's fortune, injuries and trades among them. Much is expected from the Nets this season after being a 7th seed in 2020 and getting swept 4-0 by the Toronto Raptors in the first round of the playoffs. They are an example of the variables that can alter a team's playoff and championship aspirations.
The Nets were 3-4 before meeting up with the Utah Jazz at the Barclays Center on Tuesday but were without Kevin Durant. Durant successfully returned from 552 days of rehab and healing a torn Achilles but it was announced on Monday that he had entered a 7-day quarantine after exposure to someone who tested positive for COVID-19.
Durant, who's blazing start has him leading the Nets in scoring at 28.2 points per game, will also be unavailable for tonight's game versus the Philadelphia 76ers, tomorrow at Memphis against the Grizzlies, and Sunday in Brooklyn when the Nets face the Oklahoma City Thunder. His earliest return can be Jan. 12 against the Denver Nuggets at home.
Durant, who contracted COVID-19 in May, has COVID antibodies but still must quarantine under league protocols.

The addition of Durant to the Nets lineup with the return of Irving––who missed most of last season, including the playoffs, with injuries––to go along with the high level play of Spencer Dinwiddie, Joe Harris, Caris LeVert and Jarret Allen, was expected to reap great rewards.
But Dinwiddie was subtracted from the equation after undergoing season-ending reconstruction surgery on Monday to repair a partially torn ACL in his right knee. He injured his ACL on Dec. 27 against the Charlotte Hornets.
The Nets started the season 2-0, defeating the Golden State Warriors and the Boston Celtics decisively by 26 and 28 points.
They held both teams under 100 but lost four of the next five heading into Tuesday night. In those four losses they were allowing an average of 114.7 points per game. Brooklyn's first-year head coach Steve Nash has prioritized improving the team's communication on the court––specifically on defense.
"We recognized defensively, [we have] a lot of miscommunication," said Nash during a Zoom call with media. "Lack of talk, missing assignments. Simple stuff. Fundamental stuff. It's a matter of cleaning those things up."

"It's just taking time," said Irving. "It's not going to be put together overnight, nor am I expecting it to, nor am I going to get frustrated over six games or however many games we've played. The object of this regular season was to continue to get better and prepare for the 16 wins in the playoffs."