Amsterdam News 2020 Persons of the Year: UNSUNG HEROES
By Cyril Josh Barker Amsterdam News Staff, Nayaba Arinde Amsterdam News Editor, Stephon Johnson Amsterdam News Staff | 1/7/2021, midnight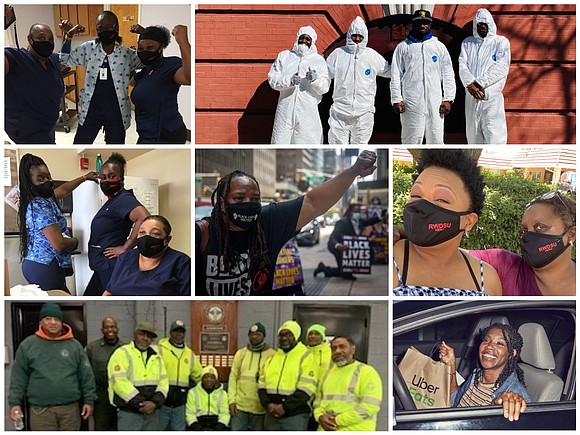 The Amsterdam News wants to pay homage to those unsung heroes who kept the city moving during the most deadly pandemic seen in our lifetime. We thank our essential workers of course, the nurses, doctors, medical personnel, the firefighters, teachers, funeral workers, postal workers, police, online shopping delivery people, veterinarians, and grocery stores, pharmacies and eateries.
Thank you for your service.
Amidst the uncertainty, fear and the desperation which shrouded the early days of the COVID crisis, were the quiet fanfare-free heroes, these unessential essentials, who are the unsung heroes of 2020/21.
Whether it is collecting the thousands of pounds of New York City garbage, or clearing mounds of snow and salting the icy city streets, New York City Department of Sanitation workers continue to show up.
"The men and women of NY's strongest Brooklyn north 5 have showed up every day to serve the neighborhood of East New York," sanitation worker Vernon C. Manard told the Amsterdam News. "As we do no matter rain, sleet, snow, hale or pandemic."
His colleague John C. Whitehead added, "As a soon to be a retiree after 28 years of service, I am proud to serve once again during something that only happens once during a lifetime—COVID-19. Keeping New York City clean."
The proud Brooklynite noted, "We interact with the public everyday, and we did it because that is our job, there was no other option. We did it for the people of this city. We are New Yorkers."
EMT workers have of course been some of the city's unsung essential workers. Without them, patients would be unable to get to immediate medical care whether they are suffering from COVID-19 or other medical emergencies.
A reported 5,700 FDNY members, which includes EMTs, have been infected with COVID-19. Five EMT members have died of COVID-19. One of the most recent deaths was 58-year-old Evelyn Ford who was a 27-year EMT veteran who served as a dispatcher. She left behind four children.
Twenty-year EMT veteran Glenn Jones of the Bronx said that since he was child he always wanted to help people. His mother had a stroke in 1999 and it prompted him to enroll in the EMT course and became certified.
"We were the first ones to be on the frontline and in the thick of it before we even knew what was going on," explained Jones. "And once we did know, we were able to act accordingly in treatment and transport to the hospitals. What keeps me going is knowing the fact that I can make a positive impact or change in someone's life and the gratitude the patient shows me in return."
MTA workers were confronted with maskless passengers, long hours and COVID-19 spreading rampant on public transit. Subway employees were the hardest hit transit workers with thousands contracting COVID-19. Even as ridership on subways and buses took a nosedive, MTA employees put their lives on the line to keep the city moving.
Subway operator Basil Todd has been working for the MTA for over 25 years and said he's been "nervous but proud" about working during the COVID-19 pandemic. He says the anxiety can be a little overwhelming. With an elderly parent living at home with him, he's been extra cautious but grateful he's still able to make a living.
"I'm glad to keep my city moving," Todd said. "Mass transit is the lifeblood of NYC because if everyone drove, you would never get anywhere so I'm hoping things will get back to normal so my city can be the greatest it always had been."
All through 2020, delivery people have been the bridge to local businesses and the community delivering food, medication, groceries and other items to keep people in their homes and bring down the number of COVID-19 cases.
As the unemployment rate rose in the city due to the COVID-19 pandemic, the demand grew for more delivery workers. Recently laid off workers looking for work heeded the call. While it is essential, delivery work can be dangerous making contact with people and, in some cases, going into their homes.
Gary Talamone has been working as an UberEats courier for over a year. A married father of two, Talamone saw the opportunity to work as well as be attentive to his family. He also said that being a courier is a good way to support his community, especially those unable to leave their homes like the elderly.
"I get a sense of enjoyment knowing that I'm doing my part, especially in times like this," said Talamone. "The motivation comes from just knowing that I'm able to provide for my family while being able to serve people at the same time who desperately need it. It's a good thing to produce things that are helpful in the world no matter what form it may come in."
DoorDash courier D'Shea Grant has been a "Dasher" for two years in Queens. She not only delivers food but also groceries, medication and, at one time, lunches to student remote learning and the elderly. Grant related that she has a special needs child and she knows what it means to not be able to leave her home and need an extra hand.
"This is the time where people are locked inside their homes—why not help somebody else?" she said. "It's a satisfactory feeling for me to be able to help somebody. It's not always about you all the time. I look at the bigger picture, not just the customer. If I'm delivering food to keep someone fed then it keeps people in the restaurant fed. It's essential to be helpful to other people. There's no time for selfishness."
We cannot reiterate enough how harsh 2020 was.
It was the year of COVID-19, quarantines and shutdown. New Yorkers were stuck in their homes, but many still needed to go to work. Many people were and are struggling to pay rent or any bills that show up.
At the beginning of it all, doctors, cops and firefighters were extensively praised for their fortitude. People applauded every night at 7 p.m. to honor doctors and nurses dealing with patients being pushed into the ICU. Many left alive, but wounded. Many others left their physical form. But still, New Yorkers had to keep working.
But what about the other essential workers? The ones who helped doctors, nurses, cops and firefighters get to their workplaces? Taxi, Uber and Lyft drivers haven't stopped working during these times. Outside of creating makeshift barriers between them and the customers they serve, they still had to work. People needed to get from point A to point B.
Enter Uber driver Doh Seydou Ouattara.
Ouattara is one of four drivers who sued New York State Gov. Andrew Cuomo and the State Dept. of Labor and won. As a result, Uber-Lyft-Via-Juno drivers in New York State can collect unemployment benefits across New York State as employees instead of independent contractors, according to an appeals board meeting.

The drivers won an injunction in federal court which required the DOL to process applications under state unemployment law, giving tens of thousands of drivers as much as $1,200 more in benefits per month.
Ouattara has needed those benefits too. 
"It's been a very challenging year for me because my car broke down [in May] and I wasn't able to fix it until late December," Ouattara said. "I had problems with the engine and tried to get it fixed because Uber requires that you have an inspection every three or four months."
Because he couldn't work for more than several months he had to "pay bills with whatever money I had."
After having a tough 2020, Ouattara still made it through.
"That pandemic has been tough for everyone," Ouattara said. "But I was able to make it through because of faith and the belief that it's going to be fine and heal months down the line. I also have my kids and I want to tell them to have a positive mind and the belief that no matter what happens, things can work out OK."
Due to his work in helping fellow drivers get unemployment, Ouattara's 2020 has been more than productive. But he's ready for work.
"Hopefully, this goes away and we get back to business," he said. "I wish for the whole world to get the vaccine so we can be safe."
One of the New Yorkers keeping people safe is New York Presbyterian nurse Aretha Morgan, RN. One of the many unsung people in the medical field (with doctors getting the majority of the praise), Morgan has been on the frontlines caring for COVID patients right at the side of doctors. Nurses tend to see the patient before the doctor so they're responsible for relaying any information they gather that could be used to treat the patient properly.
But she rather not be called a hero, unsung or otherwise. Morgan kept it short and brief when addressing her status as an unsung hero.
"Nurses and healthcare workers came to work at the hospital knowing that they would be exposed to a dangerous virus," said Morgan. "We are not heroes, we are professionals doing the job we trained to do."
But no matter how she feels, the city and its residents believe otherwise.
We thank you profusely.