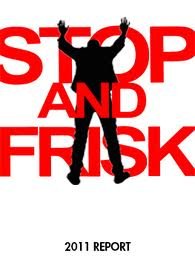 Stop and Frisk on trial: week three
Stories this photo appears in:

It was music to many people's ears as Mayor Bill de Blasio stuck to his campaign promise to end the city's legal battle that found stop-and-frisk unconstitutional.

A recent report from New York State Attorney General Eric Schneiderman's office suggests that the New York Police Department's stop-and-frisk practices are ultimately futile.

Reports indicate that a federal judge's decision ruling stop-and-frisk unconstitutional is being blocked.

Here's the article I was going to write in a nutshell: Opening Question: Would you...

A new study released by the Quinnipiac University Polling Institute reveals that New Yorkers don't...

According to the latest Quinnipiac University poll, the New York Police Department's (NYPD) stop-and-frisk policy...

Hundreds of protesters gathered at City Hall last Thursday to support the City Council's Community...

Court resumed this week for demonstrators on trial facing disorderly conduct and two counts of...

Now in its third week, the trial in federal court challenging the NYPD's stop-and-frisk tactic...

The New York Civil Liberties Union (NYCLU) released their Stop and Frisk Watch app for...