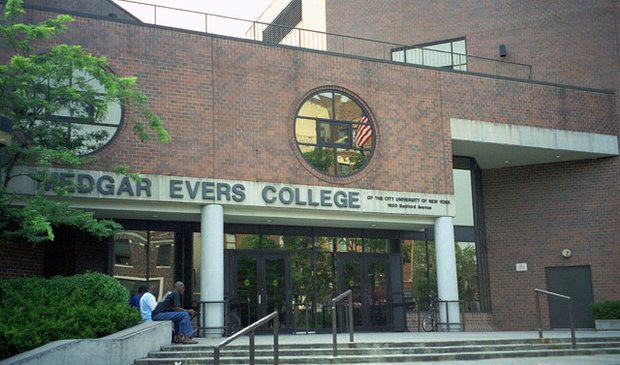 Medgar Evers College
Stories this photo appears in:
Tuition-free college just became a reality in New York.
Governor Andrew Cuomo is pushing to make New York the first state in the country to adopt a tuition-free plan at both two-year and four-year public colleges.
In the wake of the stunning outcome of the recent presidential election, I feel a renewed urgency about the existence of an institution such as Medgar Evers College
Real estate mogul and activist Roy Donahue Peebles will speak at the Minority and Women Business Enterprise reception.
If last week taught the City University of New York anything, it's that their faculty and staff are willing to be handcuffed for a new contract.
In honor and memory of John Henrik Clark's 100th birthday, Medgar Evers College, CUNY, wants to raise awareness about Clark's numerous contributions, as well as introduce him in his own words.
Last Wednesday, hundreds of CUNY and SUNY students across the state fled their minimum-wage jobs and summer internships to urge Gov. Andrew Cuomo to invest in higher education.
The Medgar Evers College "Focus on Ferguson … and Beyond" town hall meeting will give the college community an opportunity to reflect on the latest tragic incidents and determine strategies for reforming the relationship between communities of color and law enforcement.
The Black Institute, in collaboration with Medgar Evers College's DuBois-Bunche Center for Public Policy and the Caribbean Research Center, will host the "All Faces All Races" forum
An op-ed published under the headline "The spirit of Medgar Evers is under attack" and...
Tensions still are flowing on the campus of Medgar Evers College (MEC), as the administration...
If last Thursday morning's meeting at a packed Norman Johnson Lecture Hall at Medgar Evers...