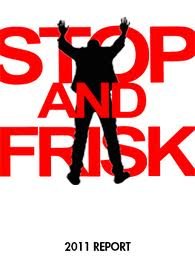 Stories this photo appears in:

Elected officials and advocates have a simple message for the police union: Stop with the nonsense.

While stop-and-frisk might seem like an isolated issue in New York City, the controversial practice is starting to take center stage as a growing problem in Newark, N.J.

As the city moves forward with its fight against the ruling that would put the breaks on the NYPD's controversial stop-and-frisk practice, the Patrolman's Benevolent Association (PBA) pledges to move forward with a lawsuit to throw out the ruling as the city changes mayors.

With the New York Police Department's "stop, question and frisk" policy suffering a defeat in court, a relatively new form of policing is in the middle of a media blitz.

Just days before the New York City Council overrode the mayor's veto on the Community Safety Act, a group of veteran police officers and law enforcement organizations came out in support of the bill.

In the aftermath of the court ruling that deemed the NYPD's controversial practice of stop-and-frisk illegal, many are asking, "Now what?"

After a two-month trial, Judge Shira A. Scheindlin of the Federal District Court in Manhattan ruled the controversial "stop-and-frisk" practices of the NYPD to be unconstitutional in the court case, Floyd, et. al. vs. The City of New York. The case was filed by four African-American men who were stopped and frisked and they argued that the procedure violated their constitutional rights.