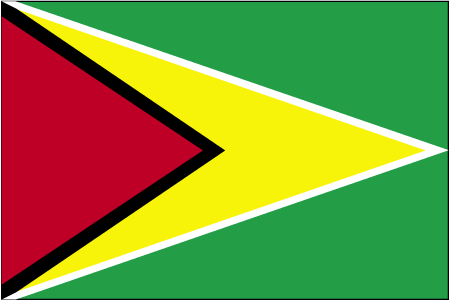 Flag of Guyana
Stories this photo appears in:
Guyana's government has established a commission of inquiry to resolve issues pertaining to land ownership in the home country of the Caribbean single trading bloc of nations, particularly those related to large tracts of land freed African slaves would have bought after emancipation but were taken away by the previous Indo-led administration for private and state projects.
It has barely been 17 months since riots and fires at Guyana's main prison killed 17 prisoners after inmates set fire to mattresses to protest poor food, overcrowding and inordinate delays in trials for those on remand, but as the week began, local authorities are again grappling with a major mutiny at the facility.
American oil giant ExxonMobil has reported major success with its latest probe of its Snoek well off Guyana, saying that nearly eight weeks of drilling have paid off with positive results in the latest of six wells drilled so far.
Government in the Caribbean Community nation of Guyana has established a special commission to settle simmering land disputes in the country, officials said this week.
When Caribbean Community leaders meet for their main annual summit in Guyana in two weeks, one of the agenda issues will include a discussion on how the region will deal with medical marijuana and decriminalization of the narcotic for personal use across the single trading bloc of nations.
On Carnival day back in 2002, four inmates awaiting trial for various felony offenses broke out of a maximum-security prison in Guyana's capital, formed a gang that traded deadly rifle fire with police, staged a serious of armed robberies and killed several people at the start of a murderous six-year period that ended in 2008
The 53-nation Commonwealth grouping of former British colonies this week threatened to sanction Guyana's government for its suspension of the country's parliament and for its refusal to hold local government elections.
Last week, the two opposition parties in Guyana's Parliament announced plans to use their one-seat majority to vote for a no-confidence motion when Parliament returns from its annual break in October, to force the Indo-led People's Progressive Party from office, citing runaway corruption and the alleged economic rape of the country as key reasons.
A number of Caribbean trade bloc nations have announced plans to begin talks with US financial officials in the coming months to negotiate an agreement with the US discouraging American citizens and residents from hiding millions of tax free dollars in accounts overseas.
For most of this year, the U.S. government has been toying with the idea of plowing money into nongovernmental civic organizations and political parties in Guyana to help them strengthen democracy at the local level largely because the system has gradually broken down over the years.

Despite the fact that it lost thousands of supporters at the November 2011 general elections and control of Parliament to the opposition, the government of President Donald Ramotar had continued operating in its usual political fashion, never compromising an inch, abusing opposing legislators and ignoring assembly decisions if it did not like them.