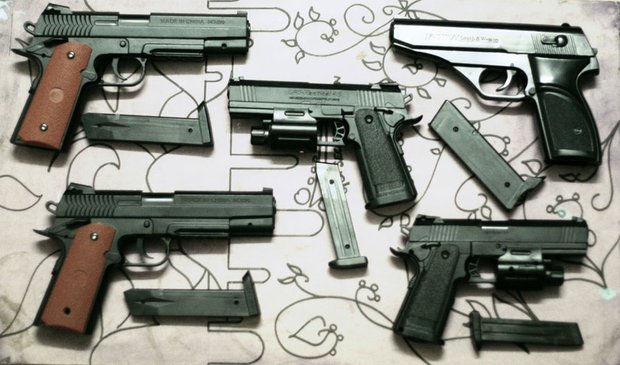 Stories this photo appears in:
Fallout continues over Congress' passage of House Bill 38, the Concealed Carry Reciprocity Act.
Rambunctious third-graders filled a classroom in Seattle on a crisp autumn day. One of the students dropped his backpack, and horror ensued.
More than 9,200 firearms were stolen from federally licensed dealers last year, according to a new report from the Bureau of Alcohol, Tobacco, Firearms and Explosives.
Imagine, as a parent of a teenager, you go to sleep, wake up the next day, and before noon you are the parent of a teenage shooter.
There are 350 million guns owned by citizens in America, and the majority of the owners are white.
Since this nation's bloody beginning—the decimation of Native Americans and the enslavement of Africans—nothing has been more terrifying to white America than a Black man with a gun.
Mayor de Blasio and the state courts this week announced Project Fast Track, a strategy to reduce gun violence in New York City through a targeted, system-wide focus on the limited number of individuals responsible for most gun violence.
According to the NYPD, from Friday, May 22, to Monday, May 25, 16 shootings occurred, with 23 victims. During the same period last year, 17 shootings occurred, with 22 victims
Mayor Ras J. Baraka, the Newark Municipal Council, Police Director Eugene Venable, Police Chief Anthony Campos and the Newark Police Department announced that the city of Newark's gun buyback, held Friday, May 1 and Saturday, May 2 at the Fourth Precinct located in Newark's West Ward, was a success.
Bill de Blasio is now counting on "violence interrupters" to help his administration prevent gun violence in some of the city's most crime-infested neighborhoods. 
Homicides in the city are down but shootings are up, causing some to ask if reforming the NYPD's controversial stop-and-frisk practice was a good idea.
Teen gun violence victim Gama Droiville has become a symbol of survival in recent weeks after being shot in the eye in Brooklyn.

NYPD to host gun buyback in partnership with Harlem Week.