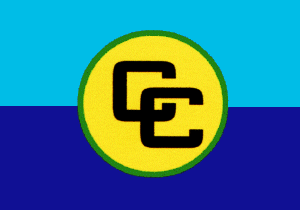 CARICOM
Stories this photo appears in:

The outgoing chairman of the 15-nation Caribbean Community has praised the region for the way it collectively responded to Haiti and other islands hit by Hurricane Matthew in early October, saying it has become clear to all that there is no other way for the string of mostly island nations to survive other than through collective efforts.

Several Caribbean leaders Monday used the 178th anniversary of the emancipation from the transatlantic slave trade to push Europe into paying reparations to the region, months after governments formally sent demand documents to European governments.

Caribbean Community leaders have given their clearest signal yet that the region is in real danger of being cut off from the rest of the world if the large American banks carry through with threats to cut ties with those in the bloc because of alleged high risks of doing business.

Caricom foreign ministers who met for several days at regional headquarters Guyana in the past week say they plan to utilize the services of academic and other experts from around the trade bloc in the future to help governments shape the region's foreign policy and to assist them in dealing with various challenges.

Caribbean Community foreign ministers met for several days in regional headquarters in Guyana

In the clearest indication yet that Canada and the 15-nation Caribbean trade bloc might not have a free trade agreement anytime soon

The Caribbean trade bloc governments appealed to the U.S. to honor a World Trade Organization (WTO) ruling in favor of Antigua

There is a growing interest among Caribbean countries to get European nations to pay reparations for their past transatlantic trade of enslaved Africans.

A team of experts hired by Caribbean community leaders is moving ahead with a mandate from leaders to recommend an overhaul of the way the Guyana-based regional secretariat operates

Caribbean governments are serious about being paid by European countries for the horrors of the slave trade