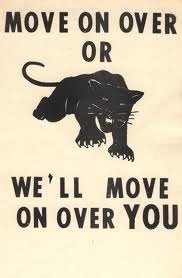 Black Panthers
Stories this photo appears in:

The Black Panther Cubs and the Black Panther Alumni Association commemorated the 51st anniversary of the Black Panther Party's founding last weekend with several local events.

The original Harlem Black Panther Party is celebrating the 50th anniversary of its founding with an event at the Schomburg Center.

Beyoncé didn't bring back the Black Panthers when she and an Afro-frizzed dance team donned black leather jackets and berets during Super Bowl 50's halftime show.

Those who wished to celebrate the birthdays of two modern-day freedom fighters joined the new Black Panther party at the Refral Center in Newark, N.J. The birthday tribute honored Black Panther Party members Assata Shakur and the late M.A. "Smitty" Smith last week.

The New Black Panther Party's Newark chapter plans to kick off the new year with new events.

Although they were not the first group to call themselves the Black Panthers nor the...