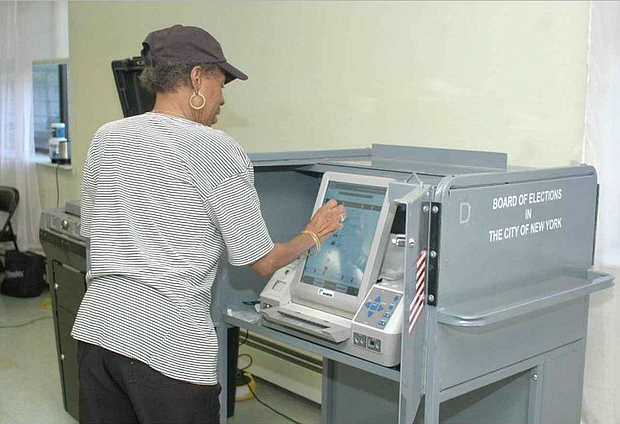 Voting Machine
Stories this photo appears in:

Mayor Bill de Blasio recently signed legislation allowing for the creation of an online system to make voter registration easier for New York City residents.

Black women will play a key role in electing the next president, according to a recent report by the American Federation of Labor and Congress of Industrial Organizations (AFL-CIO).

Although often ignored by the mainstream media, the backbone of the Democratic Party is African-American women. This year, the election, like the previous two presidential elections, might be swayed by the number of Black women who turn out in key states such as Pennsylvania, Ohio and Florida.

Last week's presidential primary exposed some potential serious Board of Elections problems in the management of voter lists and the conducting of the election.

I was recently invited by the Rev. Al Sharpton to be on a panel during his National Action Network convention. Sharpton was gracious in his introduction, calling me an outstanding Republican, and although I appreciated the invitation, his kinds words and the opportunity to dialogue with other African-Americans about politics, policy and the Black vote...

The Black vote in America has been key to the successful election of any Democratic president in recent history and of a countless number of local officials.

"Today is a triumph for freedom as huge as any victory that has ever been won on any battlefield.
Proponents and advocates of the various cases before the Supreme Court during this recent session experienced the extremes of the court.

A day after the Supreme Court sent affirmative action to a lower court to determine its fate, they dropped the other shoe on Tuesday, killing the vital core of the Voting Rights Act. While the vote on voting procedures, 5-4, was not as decisive as the 7-1 vote on Monday on affirmative action, it was no less disappointing, particularly for civil rights activists.