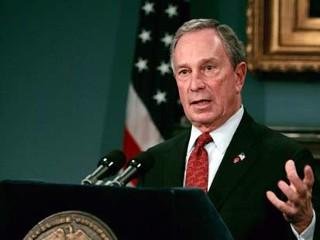 Bloomberg
Stories this photo appears in:

Former New York City Mayor Michael Bloomberg has reportedly told advisers to work on plans for an independent campaign for president.

For the first time in the city's history, the budget for an upcoming fiscal year already has been balanced for an incoming mayor

When asked recently if he had seen "12 Years a Slave," a young man said no, but responded, "I have lived in New York City under 12 years of Bloomberg."

The New York City Council plans to override Mayor Michael Bloomberg's veto on a pair of two bills on Thursday, that will increase oversight of the NYPD and give New Yorkers the ability to sue the Police Department if they are racially profiled.

Amongst several mandates announced today, the City Council voted and overrode Mayor Michael Bloomberg's veto on paid sick-leave this morning, forcing thousands of businesses to offer paid sick days and protecting workers across New York.