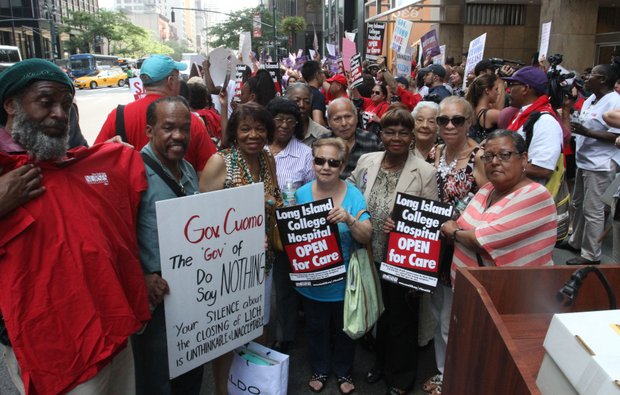 Interfaith
Stories this photo appears in:
The ups and downs with the fight to keep Long Island College Hospital (LICH) continued last Friday. The hospital resumed ambulance service this afternoon but would only accept noncritical patients. SUNY Downstate, which runs the hospital, told reporters that it would bring in doctors from other institutions to help with services and claimed that it's making every effort to maintain the current status quo.
Rep. Hakeem Jeffries, New York Assembly Member Annette Robinson and community leaders called for the preservation of health care services at the Interfaith Medical Center on Wednesday morning.

Members of the New York State Nurses Association and 1199SEIU United Healthcare Workers East joined with hundreds of health care workers from Brooklyn's distressed hospitals as well as state and local elected officials to rally outside of New York Gov. Andrew Cuomo's Manhattan office. Together, they called for a moratorium on all hospital closures in Brooklyn. They're also asking for a guarantee that they would have a voice in the future of their hospitals.