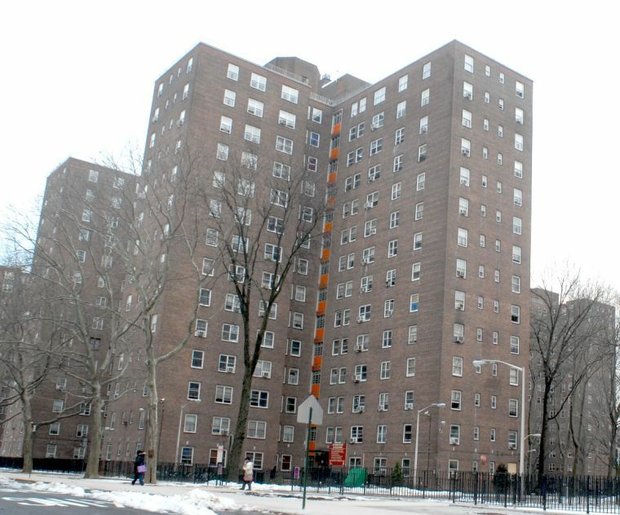 NYCHA Housing
Stories this photo appears in:
The New York City Housing Authority has been plagued with corruption and incompetence for years.
As temperatures fall to below freezing at night in the city, residents in NYCHA are already battling with heating issues.
A new lawsuit filed in Manhattan Supreme Court Thursday demanded NYCHA provide rent refunds for the 300,000 tenants who were without heat or hot water at some point last winter.
Mayor Bill de Blasio announced $200 million will be invested in boiler replacements.
As the saga continues over revelations that the New York Housing Authority (NYCHA) lied about lead paint in thousands of apartments, tenants' complaints about longtime issues are pouring in.
An audit has confirmed what many have suspected—plenty of public housing vacancies are available that aren't being filled.
Some of us old enough to remember when public housing, a brand-spanking-new, two-bedroom residence in the projects, was considered "upward mobility" not only are nostalgic about the past but also sympathize with those currently in desperate straits for decent housing.
Reports indicate that the New York City Housing Authority is selling 50 percent of its stake in housing projects, approximately 900 apartments, to private developers.
A controversial plan would allow a residential condo building to have one entrance for its residents who buy condos facing the Hudson River and another for affordable housing residents facing the street.
In a further attempt to fight crime, Bloomberg suggested last week that residents at New York City Housing Authority (NYCHA) complexes be fingerprinted in order to make them safer.

As the sequester continues in Washington, D.C., it appears cuts to government-funded programs are sparing no one. That includes the New York City Housing Authority (NYCHA), which is seeing cuts totaling $205 million.