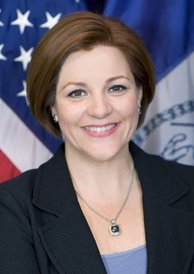 Living wage passes; mayor vows to veto Quinn outburst steals the show
Stories this photo appears in:

Council Speaker Christine Quinn didn't make friends with the crowd by showing up close to...

Critics of Council Speaker and New York City mayoral candidate Christine Quinn expressed disappointment and...

An unknown party posted a fake version of Christine Quinn's mayoral campaign website. The webpage...

Last week, the United Food and Commercial Workers Union (UFCW) Local 1500 endorsed current New...

On Monday, the New York City Council voted in favor of the Fair Wages for...