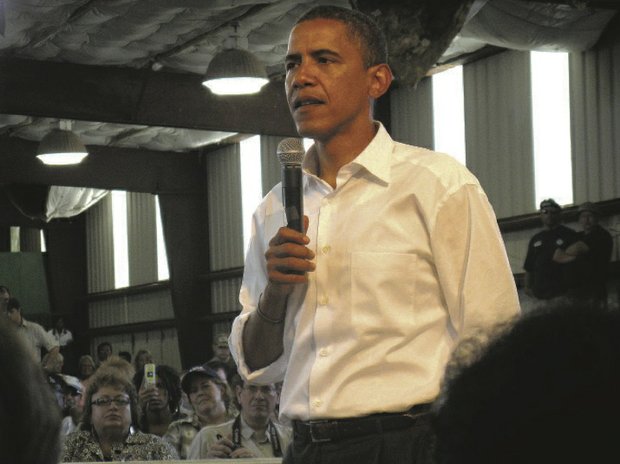 President Obama
Stories this photo appears in:

At the risk of furthering the gulf between himself and an already polarized Congress, President Obama announced several sweeping executive actions poised to protect more than five million immigrants currently living undocumented in the United States.

Almost at the same time that President Barack Obama was in Atlanta at the Centers for Disease Control and Prevention last Tuesday, declaring a commitment of 3,000 U.S. military forces to West Africa to deal with the ravages of the Ebola epidemic, Army Gen. Martin Dempsey, chairman of the Joint Chiefs of Staff, told the Senate Armed Services Committee that he would recommend ground troops in the fight against the Islamic State group if necessary.

By almost any standards, President Barak Obama defies easy classification.

Happy 53rd Birthday to President Obama!

President Obama's new strategy to combat HIV/AIDS intends to turn the United States into a place where the infection is rare, and regardless of a person's standing, when someone does contract it they'd still have complete access to all necessary care for sustaining a long stigma free life.

College graduates and college students are starting to breathe a little easier thanks to President Barack Obama's signing of a memorandum directing the secretary of education to propose regulations that would allow nearly 5 million federal direct student loan borrowers the opportunity to cap their student loan payments.

As thousands of college students return home for the summer, and compete with the thousands of teenagers already scrambling for jobs in an ever-shrinking job market, the Obama administration has announced they will be allotting $6.7 million for the creation of conservation jobs for youth and returning veterans.

The Rev. Al Sharpton announced this week that President Barack Obama will address the National Action Network's 16th annual national convention.

Of concern at the moment former rock and roll musician Ted Nugent, who called the president a "subhuman mongrel."

President Barack Obama embarked Tuesday on a campaign to assure Americans that his health plan is alive and well.

Last Saturday evening, President Barack Obama explained yet another bold move by his administration, and like his other moves, the interim peace deal with Iran has come with its own measure of dissent and push back

President Barack Obama woke up Wednesday morning to more bad news: His approval rating reached the lowest since he took office.