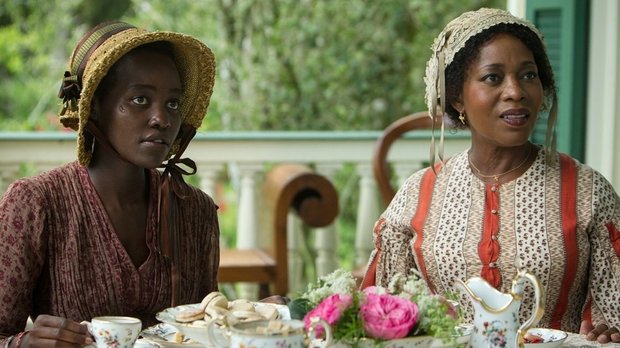 Lupita Nyong'o as Patsey and Alfre Woodard as Mistress Harriet Shaw in "12 Years a Slave"
Stories this photo appears in:

As 2014 Black History Month ended, Denzel Washington appeared on late night television to promote his forthcoming performance in Lorraine Hansberry's iconic "A Raisin in the Sun."

Lupita Nyong'o won an Oscar for Best Supporting Actress for her role in the Hollywood feature "12 Years a Slave."

It's hard not to notice that "12 Years a Slave," arguably the greatest depiction of the American sin of slavey, comes courtesy of British filmmakers with roots all over the world. London-born director Steve McQueen's family is from the Caribbean; the film's star, Chiwetel Ejiofor, was born in London to Nigerian parents. Co-stars Lupita Nyong'o and Adepero Oduye hail from Africa.