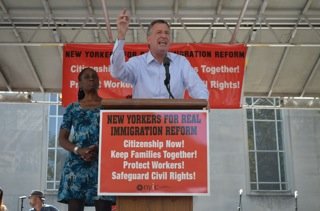 Bill de Blasio speaking at the Oct 5. National Day of Dignity and Respect in New York City
Stories this photo appears in:

On Saturday, New Yorkers joined concerned citizens nationwide to mark the National Day for Dignity and Respect. Thousands of supporters for an immigration overhaul flooded downtown Brooklyn to pressure Congress to focus on legislation leading to citizenship for millions of illegal immigrants despite the shutdown in Washington.