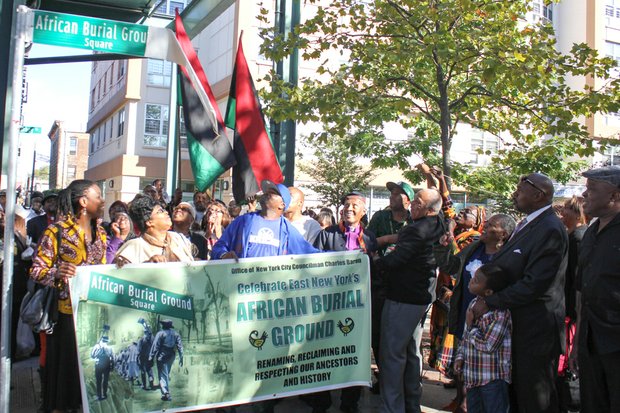 African American Burial Ground Square Street was unveiled in East New York, Brooklyn.
Stories this photo appears in:

Religion & Spiritualality
Originally scheduled for renovation throughout 2015 to 2019, the MTA's bus depot at 2460 Second Ave. (between 126th and 127th streets) will instead shut down permanently Jan. 5, 2015 to make way for an African Burial Ground memorial.

On the trek from the A train to the Jacob Javits Convention Center over the weekend, a visitor would have met with a veritable army of folks—mostly women—leaving the Circle of Sisters 13th annual event. An even larger gathering of women—mostly Black—were inside the center, crowding the hundreds of vendors or seated at the Steve Harvey-emceed "Family Feud," or standing in line for the concert featuring Eric Benet, Keyshia Cole and Amel Larrieux.